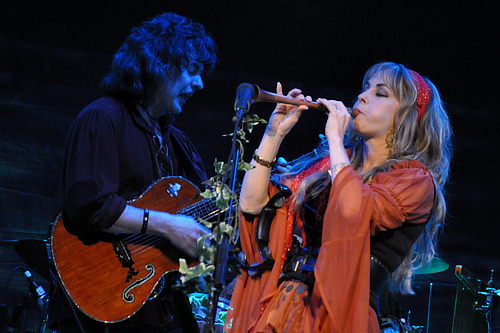 German website meinAnzeiger.de has an interview with Ritchie Blackmore and Candice Night that concentrates on the fact that they are actually touring over there and have a new album coming out:
How can people imagine a day in the studio with Ritchie and Candice? Who is the boss?
Ritchie Blackmore – We don't have a boss. I would say the situation is democratic but that word has been misused in the last 10 years. We usually start around 3pm because we are night people. I sometimes have a vague riff and melody then we take it from there. I then put it by Candice and we see if it has potential. We usually just do la-las and figure out the melody. The next stage is to do a mapping vocal and I do a rhythm track so all of our songs actually start off with la-las until she comes up with the lyric line that represents that scenario. We work through to usually 1am.
Candice Night – I am usually running the kids to their activities and doing the household stuff and then in between all that I find time to do music. Usually I need to write the lyrics while I'm in my car doing errands or after I put the children to sleep. Typical working mom 🙂

Could you imagine an album in a different language? I heard you do speak some German as well?
Ritchie Blackmore – I do speak some German which comes in handy when I am eavesdropping on German people who think I don't understand. But we have only ever done a couple of songs in German and 1 in French and 1 in Greek. We are still thinking of doing an American record but i don't have enough hip hop cliches down yet.
Read more in meinAnzeiger.de (scroll down the page for the English version of the interview).
Thanks to Cameron Hons for the info.