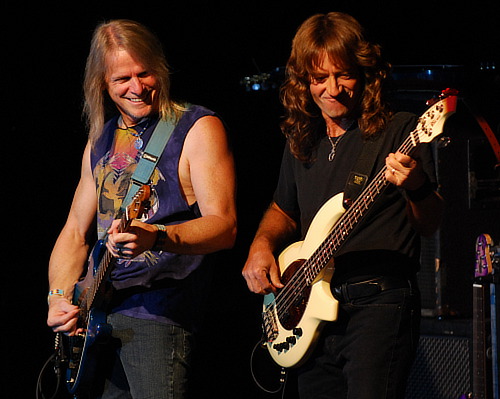 Steve "can't just be sitting around" Morse has teamed up with multi-instrumentalist Neal Morse (no relation), his old buddy Dave LaRue, ex-Dream Theater drummer Mike Portnoy, and vocalist Casey McPherson for a brand new, yet unnamed project which just has entered the studio to begin working on an album.
Blabbermouth has some quotes from Neal Morse on this new venture:
Last April I got together with Steve Morse to do some writing and to see what would happen with a collaboration between the two of us and how I went down to his house in Florida and spent some days with him, getting to know him and writing some music and we had a really good time. So we've been talking about doing a project together for a while.
There are some demos and some things that Steve and I did in April that we've worked on and so we'll have some things to start with, but I think the plan is to get together and see what happens and write in the room.
We're all excited about the project, but it is a bit of a mystery as to what will come. The vision is to do something a little more song-oriented and not quite so riffy, as one might expect. But still, of course, having the musical elements that people like Steve Morse, Dave LaRou, Mike Portnoy, and myself can provide.
We've mapped out about 10 days [in the studio for the project's first session]. We'll see what happens and see how much we can get done, if we can't get the basics down enough for an album then we'll have to continue on later.

Everyone's schedules are a bit in flux and their very busy people so I don't know how long it will take us to actually finish and release the record.
Thanks to Blabbermouth for the info.