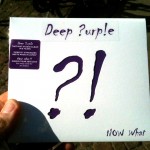 The Montreal Blues Society is preparing a review of Deep Purple's appearance at the Ottawa Bluesfest. In the meantime, we are happy to offer you their review of Now What?!
Ok, blah, blah, blah. What about the music? I pour myself a frosty Kool Aid and set myself on the king's throne and hit play. Expecting a big ass riff to kick me in the bollocks, I am instead greeted with a mellow bass riff with some soon added guitar fills to start off 'A Simple Song'. A subdued Gillan chimes in and the vibe is kind of Gabrielish or Gillan solo (not a bad thing)…but then BANG… Hammond, Ball, Pearl, Vigier, and Shure explode and come at me with a vengeance. A skull penetrating rhythm invades the prior serene lead in. It didn't take long and I now keel over in pain from what I wanted. I can't believe how prominent the bass sounds. The standard guitar solo is switched out for a great Hammond piece by Airey before the song 360s back to how it began. Beautiful. I don't even make it to track two…repeat.
Read more at the Montreal Blues Society.
Thanks to Sean Willoughby for the info.
Watch this space for further developments.