Couple of new entries to our trainspotting project.
A restaurant called Deep Purple has opened last year in Chiangshu, China. It specializes in western (as in European / North American / Australian) food. The band gets a nod in their self description:
The name Deep Purple traces its roots back from the mysterious and dreamy color that brings everyone a sense of imagination and nostalgia. The world famous Deep Purple Band is a legend in the history of rock music, and is the root for the name Deep Purple.
It does not appear that the band's music is featured though:
At deep purple enjoy your meal while listening to the wide selection of music covering: village country, jazz, Bossa Nova, French, and lounge music.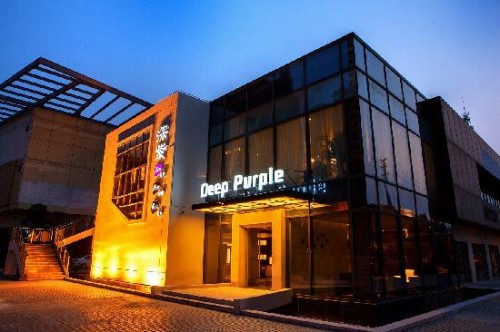 Meanwhile, on the other side of the world, in Texas, a nine year old boy was struck by lightning during soccer practise and is making a very slow recovery. Local TV station reports:
Just recently came the recognition of his favorite song, "Smoke on the water." His sister, Julia, loaded it on her iPod and played it for him at the hospital.

"He sort of squinted his eyes first, and then he started smiling — just the biggest smile I've ever seen on his face before," said Julia Hermann. "It was really incredible to see."
Thanks to Yvonne and Andrey Gusenkov for the info.