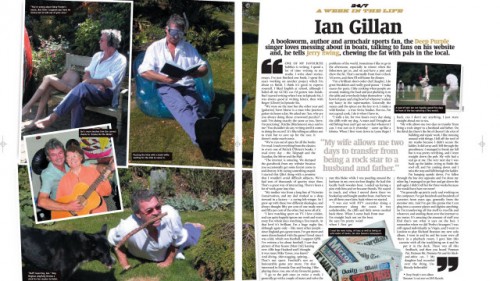 Back in April Classic Rock Magazine has republished online a profile of Ian Gillan, concentrating on his everyday life outside of the band. The article originally appeared in the print edition of Classic Rock, issue 59, quite a few years ago. If you've missed it in dead tree form, it's quite an entertaining read (registration required to view content):
My wife allows me two days to transfer from being a rock singer to a husband and father. On the third day there's the list of chores! I do a lot of building and repair work. I like messing around with things. I fell off the roof of my studio because I didn't secure the ladder. It slid away and I fell through the greenhouse. I managed to break my fall but it was pretty terrifying, and I went straight down the pub. My wife had a real go at me. The very next day I was back up the ladder, trying to finish the roof off, and I'm coming down and I miss the step and fall through the ladder. I'm hanging upside down, I've fallen through the bay tree opposite and I've done my other leg. I managed to get free and get down the pub again. I didn't tell her for three weeks, because she would have hurt me more!
Read more in Classic Rock.
Thanks to Yvonne for the info.