Fancy yourself a Deep Purple show on a New Year's Eve? You'd have to buy yourself a time machine first, because (to our knowledge) the only time the band did such a thing was on December 31, 1968, at the Electric Circus in New York City, a legendary nightclub that at one point had The Velvet Underground as their house band. It's All In The Streets You Crossed Not So Long Ago, a blog dedicated to rock'n'roll landmarks of the city, has reproduction of an ad that appeared in Village Voice issue dated January 2, 1969 (which probably hit the streets a week before that):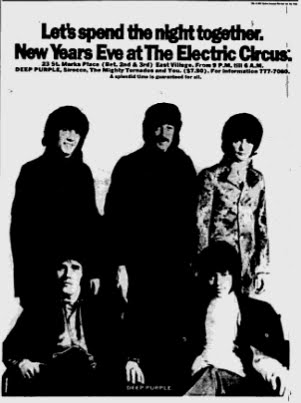 Let's spend the night together.
New Year's Eve at The Electric Circus.

23 St. Marks Place (Bet. 2nd and 3rd) East Village, from 9 P.M. till 6 A.M. DEEP PURPLE, Sirocco, The Mighty Tornados and You ($7.50). For information 777-7080. A splendid time is guaranteed for all.
Thanks to Yvonne Osthausen for the info.