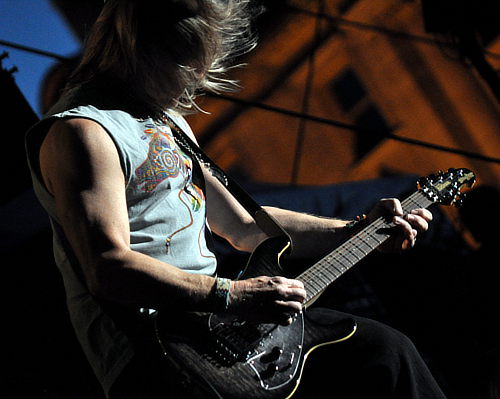 Amazing, but true. Geoff Barton writes in the Classic Rock Magazine blog:
Steve Morse has become the longest-running guitarist for Deep Purple, having joined the band in 1994.

Morse's unbroken 17-year tenure beats founding guitarist Ritchie Blackmore's stints with the band from 1968-1975 and 1984-1993 (we make that 16 years).
While Geoff didn't quite get his math right, the undisputable fact is still there.
The first known Deep Purple gig was on April 20, 1968 in Tastrup, Denmark. This started Blackmore's tenure in the band which lasted uninterrupted until that Paris gig on April 7, 1975. Which makes it 2,543 days or 6 years, 11 months, and 18 days. News of the reunion were announced some time in April 1984, however if we stick to the live dates, the first show was on November 27, 1984 in Perth, Australia. The "second coming" lasted until Helsinki on November 17, 1993. Which makes it for another 3,277 days or 5,820 days in total.
Now, the first gig Steve played as a member of Deep Purple was on November 23, 1994 in Mexico City. As of today (June 29, 2011) this makes him Deep Purple's guitar palyer for 6,062 days or 16 years, 7 months, and 6 days. He had surpassed Blackmore's tenure on October 30, 2010. On that date he (what else!) played a gig with Deep Purple at the Spodek arena in Katowice, Poland.
Some people might argue that in 1968 the band started much earlier and in 1984 they've spent the whole summer recording. Okay, let's be generous to Ritchie and say that the band started on, let's say, February 1, 1968 and the reunion happened on April 1, 1984. That's 2,622 + 3,517 = 6,139 days. This only means that the drum roll would be postponed by a couple of more months. No matter how you look at it.
Thanks to Editor Emeritus Dave Hodgkinson for the info, to Martin Ashberry and his Live Index for the dates, and to the Date Difference Calculator for number crunching.