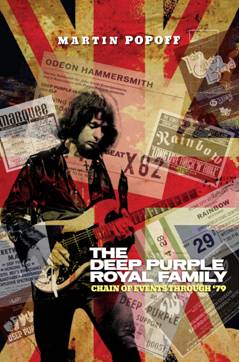 Martin Popoff has a new book out, titled The Deep Purple Royal Family: Chain Of Events Through '79. Instead of trying to write something about the thing we have not seen, here is the complete press release straight from the author:
The Text:

280 stuffed pages offering an exhaustive and detailed timeline of Purple milestones, often to the day, including some similar bands, influences, cultural milieu, tour stuff, recording sessions, charts, singles, certification news, break-ups, personal stuff, trivia for miles, and lots and lots of artist quotes to add to the entries, turning the book into a quasi-oral history but loaded with factual matter. But as you've noticed, this is about FAMILY. So the text weaves, in and out of the story of Purple proper, the dastardly diaries of Rainbow, Whitesnake, Ian Gillan Band, Gillan, Paice Ashton Lord, all the solo projects, guest slots, even Captain Beyond, Warhorse, Jerusalem, Jesus Christ Superstar, Bedlam, Elf, Episode Six, Outlaws, and Pussy. And when I felt it mattered to the story, there's touchdowns to the likes of Heep, Sabbath, Zeppelin, Nazareth, Moxy, Silverhead, Hard Stuff, Trapeze, Lord Sutch, Warpig, Vanilla Fudge, Brian Auger, Judas Priest, James Gang, Angel and Legs Diamond, always with contextual explanation plus the odd rare and very cool archival advertisement.

The Graphics:

A blazing 542 of them, usually rare, archival, historical shots of record ads, LP and 45 sleeves, tour posters and newspaper notices, ticket stubs, endorsement ads, tour program covers, foreign country releases, and again, contextual things like, say, an ancient Hammond or Marshall ad, studio ads, weird business stuff. Seriously, the crazy, creative old '70s ads, and the hype copy on them – that's why I wanted to do this book. It's a gallery, flowed and framed by fully 41,000 words of beautifully displayed timeline, which brings us to.

The Design:

This book marks my first project with awesome Calgary-based designer Bill Harris, and what he's created for the look of this thing is top-flight, eminently readable, a pleasure to flip through and touch down upon the trivia and the rare pictures from deep Deep history. You'll love it – a huge step up for my books.
The books can be ordered straight from the source, although this one appears not to be listed yet. Email Martin for any further questions. The cost including shipping is:
US orders: $35.00 US funds
Int'l orders (surface mail): $39.00 US funds
Int'l orders (air mail): $45.00 US funds
Canadian orders: $38.00 Cdn. funds
Paypal, personal checks in US funds, cash, or international money orders accepted. Yes, as far as we know, he accepts payments in Canadian dollars as well.