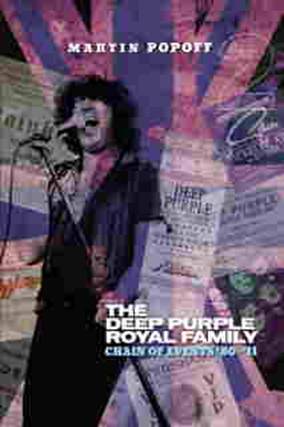 Martin Popoff has a follow up to his Purple family book. The new book is called The Deep Purple Royal Family: Chain Of Events '80-'11.
This picks up where that book left off, offering a few modest milestones within its pages, namely:

the most comprehensive information on the Gillan band ever stuffed in a book
the largest amount of detail as pertains the Whitesnake story ever presented
a fair bit of Blackmore's Night as well as Joe Lynn Turner and Glenn Hughes solo
all the play-by-play from Perfect Strangers up to Purple happenings this summer

Also, as with the first one, I've made sure that the content was all 100% fresh over and above my first two Purple books, Gettin' Tighter: Deep Purple '68 – '76 and A Castle Full Of Rascals: Deep Purple '83 – '09, all 296 pages, including all-new interview footage, all-new quotes from archival press, all text, all. 513 pictures.

The Text:

296 stuffed pages offering an exhaustive and detailed timeline of Purple milestones from 1980 until right now, often to the day, including some similar bands, influences, cultural milieu, tour stuff, recording sessions, charts, singles, certification news, break-ups, personal stuff, trivia for miles, and lots and lots of artist quotes to add to the entries, turning the book into a quasi-oral history but loaded with factual matter. But as you've noticed, this is about FAMILY. So the text weaves, in and out of the story of Purple proper, the dastardly diaries of Rainbow, Whitesnake, Gillan, Blackmore's Night, all the solo projects, guest slots, a li'l MSG, Gary Moore, Black Sabbath and Black Country Communion, always with contextual explanation plus rare and very cool archival advertisements of shows 'n' records 'n' singles.

The Graphics:

A hefty 513 of them, usually rare, archival, historical shots of record ads, LP and 45 sleeves, CD singles, Japanese issues, picture discs, tour posters and newspaper notices, ticket stubs, endorsement ads, tour program covers, other foreign country releases, and again, contextual things. It's a gallery, flowed and framed by fully 50,000 words of beautifully displayed timeline, which brings us to.

The Design:

This book marks my second project with awesome Calgary-based designer Bill Harris, and what he's created for the look of this thing is a triumphant reprise of the first one, same breezy, readable mix of yummy graphics, pull quotes, classy typestyles. a pleasure to flip through and touch down upon the trivia and the rare pictures from deep Deep history. You'll love it – a killer, comprehensive companion piece to the first edition.

Price including shipping:

US orders: $35.00 US funds
International orders (air mail only): $45.00 Cdn. funds
Canadian orders: $38.00 Cdn. funds
The book is not up on the Martin's website yet, so wait a couple of days or email him for ordering info.