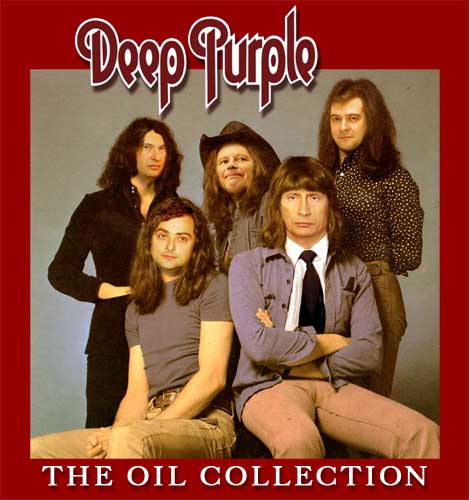 Since our favourite rumour mistress is on extended vacations on a private exotic island, I'll have to do the honours of spreading the gossip myself.
As we've mentioned previously, Deep Purple plays an important role in the bizarre world of Russian politics. This little birdie told me today that the band is about to play a private gig at a Moscow Kremlin party:
Legendary rock band Deep Purple will play at Russian presidential candidate Dmitri Medvedev's farewell party as he steps down from his job as chairman of Gazprom. President Putin will also attend the party in Kremlin.
Another little birdie says the party is to celebrate 15th anniversary of Gazprom and Deep Purple and Joe Lynn Turner are being mentioned among the invited, along with Tina Turner and some Russian acts. The concert will be held at the Kremlin State Palace and is supposed to be recorded on video and broadcasted at a later date. Management of the band refused comments to the press, perhaps quite understandably.
Dmitri Medvedev is the Russian presidential candidate endorsed by Vladimir Putin and is widely expected to win the March 2nd elections. He is an outspoken fan of Deep Purple, Black Sabbath and Led Zeppelin, prefers "vinyl sound" to that of CDs' and publicly takes pride in his vinyl collection. Joe Lynn Turner's private gig in Moscow on June 12 last year (Russian Independence Day) was organised apparently on his behest.
Well, a job is a job is a job, but I think that they should be threading carefully the thin ice of Russian (or any other) politics. Why? Because.
Money goes to money
Yes it always returns
Finds its way back to the big house
Where it lives all alone
Wraithlike silent partners
Operators of the system
Give words of quiet assurance
To an otherwise healthy victim…
Thanks to all the little and not so little birdies for the info.
UPDATE (Feb 10): It looks like JLT's participation was a result of somebody's too vivid imagination, perhaps even mine. The concert appears to go ahead with Deep Purple, Tina Turner and local support acts. Reportedly, Deep Purple will play 40 minutes to close the concert at the main venue and then play another set for a very small audience. The main event will be recorded and broadcasted on ORT on February 15 at 21:25 MSK. ORT is also available in many countries for cable and satellite subscribers, check your local listings. It doesn't appear you can watch ORT online, but I'm sure it will quickly show up on Youtube.
Thanks to many people on the Russian forum for the info.