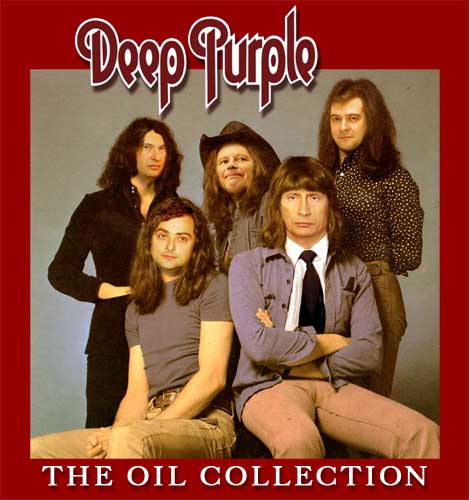 Parody circulated on the Internet: faces of some Russian politicians plastered over an imaginary LP cover.
Apparently Deep Purple plays an important role in the bizzare world of Russian politics. President Vladimir Putin is supposed to step down after his second term expires in 2008. It was reported earlier that the two presidential hopefuls in the elections, current first deputy prime minister Dmitry Medvedev and minister of defence Sergei Ivanov were spotted in the audience and mingling backstage at the DP show in Moscow in October 2006.
Now an English language newspaper St.Petersburg Times reports
Vladislav Surkov, the deputy head of presidential administration and and the Kremlin's ideologist, and Dmitry Medvedev, the first deputy prime minister often seen as President Vladimir Putin's preyemnik, or successor, revealed they are both fans of Deep Purple, according to Vedomosti newspaper.

Meeting around 20 activists from pro-Kremlin youth organizations such as Nashi and Rossiya Molodaya late last month, Surkov was reported as saying about Medvedev and himself: "We are think alike on most subjects, the only difference in terms… We both like Deep Purple, but he likes 'Kentucky Woman' better while I like 'Lazy.'"
It remains to be seen whether the next Russian president will indeed be a Deep Purple fan or the candidates are just trying to score some points with the electorate due to the legendary status that the band enjoys in Russia.