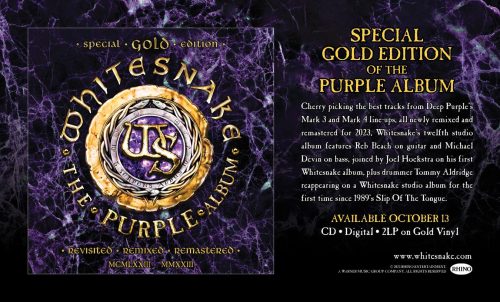 Whitesnake's The Purple Album will be reissued on October 13, 2023, via Rhino Records. It will be available as 2CD, 2LP on gold vinyl, Blu-ray, and digital. Of particular interest in certain quarters would be the second CD that will feature the 4 tracks from DC & The Fabulosa Brothers tape that landed him the Purple gig:
Everybody's Talkin'
Get Ready
Lonely Town, Lonely Street
Dancing In The Street
Another bonus track is enticingly labelled as 1974 DC Demo Ideas For The Stormbringer Album. The CD2 is rounded up with live tracks and alternative mixes. CD1 contains the original album remixed. Whitesnake.com has more details, including the complete track listing.
The whole affair is being released under the 'celebrating 50 years of joining Deep Purple' moniker.
A promo clip featuring a remix of Burn has been posted today to promote the release.
Thanks to BraveWords for the info.