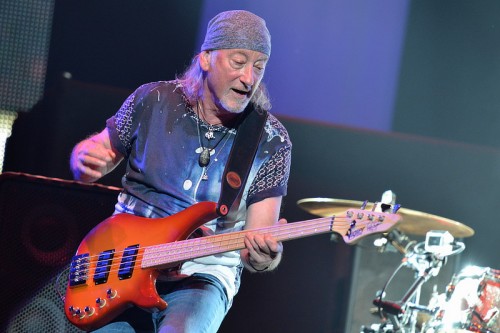 Italian webzine Truemetal has a lengthy interview with Roger Glover, which was done by an obvious fan. That makes it twice as interesting for us as the usual fare from the mainstream press (even the musical mainstream press).
This album is the band's twenty-first over more than 50 years of career. I guess this is a question you hear a lot, but where do you still find the inspiration after all this time?

[Laughs] That's a good question, the best answer I can give you is something I thought when I was about eight years old.
When I was about eight, I lived in Wales, in a village, and every week we go to the market in the main town and there was a cinema there, and the cinema had big posters outside with the catchy titles of movies, and I actually did think, "What's gonna happen when they'll run out of movie titles?".
Now, that's a silly thing to think, that's a typical eight years old thing to think, you can never run out of anything.
Things change and evolve, there are new ways of doing even the older things, that's how mankind has been going on; we find new ways of doing the same things.
And the question that caused quite a stir in certain quarters recently:
I've seen the booklet of the album and noticed that Bruce Payne is not mentioned. He's been your manager and Deep Purple's manager for a long time, what happened with him?

We kind of reached an end to our productive years with a manager.
It's very sad, Bruce is one of my best friends, we still talk, we're still friends, but we felt the need to change and so we changed.
It doesn't make any difference to the band, to the music of the band.
Read more in Truemetal. Seriously, it's well worth your time.
Thanks to AndreA for the info.