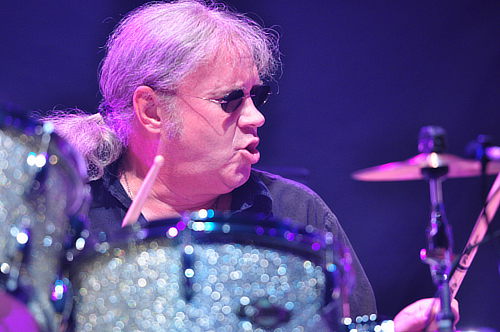 On Monday, May 20, Ian Paice will take will take a week long residency at London's Ronnie Scott's Jazz Club playing with the Buddy Rich Big Band.
There will be two shows per night for this celebration of the great Buddy Rich:
Mon-Thur: 1st show onstage 7pm , 2nd show onstage 10.15pm
Fri-Sat: 1st show onstage 7.30pm, 2nd show onstage 11.15pm
The event will be hosted by Buddy's daughter Cathy Rich.
One of legendary drummer Buddy Rich's last requests of his daughter, Cathy, was to keep his band working, his music alive, and to do something for young people. No easy task, but eventually the idea of an annual memorial concert seemed like the best way to do it. Cathy Rich produced the first Buddy Rich Memorial Concert in 1988 at Carnegie Hall in New York and thus began the story of these incredible events. 2017 marks the 30th anniversary of Buddy's passing and what would have been his 100th birthday and, following the success of the 25th anniversary memorial concert at the London Palladium in 2012, Ronnie Scott's will be hosting 12 exclusive shows over 6 nights featuring the reformed Buddy Rich Big Band with legendary drummer Ian Paice (of Deep Purple fame), Buddy Rich Big Band drummer Gregg Potter, and the evening hosted by Buddy's daughter Cathy Rich. The Buddy Rich Big Band will comprise musicians from both the US and the UK, several of whom toured with Buddy himself and played on his last ever UK shows in 1986. Join us in paying tribute to "the world's greatest drummer" in his 100th birthday year!
Full details in our calendar.
Thanks to Akemi Ono for the info.