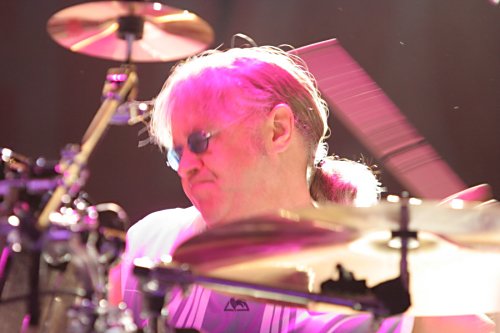 "All my favourite drummers are dead."
Paicey makes no secret that he grew up on the music of classic Big Band drummers such as Buddy Rich and Gene Krupa, who had a tremendous influence on his style.
Buddy Rich would have celebrated his 90th birthday on September 30th, and 2007 also marks 20 years since his passing. The special one off concert celebrating the life of a legend, known to many as The World's Greatest Drummer, will be held at the Garrick Theatre in Lichfield, England on September 29.
Ian Palmer, one of Europe's foremost session drummers has brought together six of the world's leading drummers to perform alongside the award winning Fat Chops Big Band. They are: Ian Paice (Deep Purple), Steve White (Paul Weller), Jon Brookes (The Charlatans), Pete Cater (The Pete Cater Big Band), Garry Allcock (The All Stars Big Band) and of course, Neil Bullock (Fat Chops Big Band) as they perform the music made famous by Buddy Rich.
Tickets are available via the theatre website or by calling 01543 412121.
Thanks to Michael Mountford for the info.