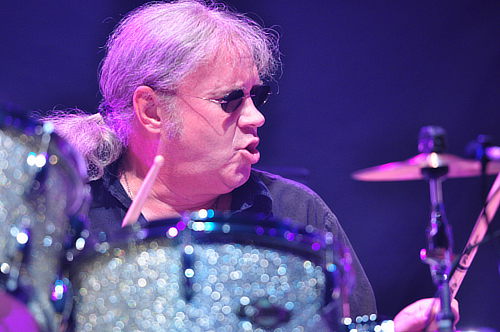 The Decibel Report has an exuberantly written review of one of the shows Paicey did with the Buddy Rich band in London last month.
'Twas a hot summer's night and waiting in the VIP queue outside the venue whilst awaiting the first show of the day to end one could feel gentle excitement mounting. This was raised somewhat when a possible co-conspirator (or witness to the crime) Ian Gillan sauntered past and joined the queue to take his Place In Line.

Once inside this cosy and classic Jazz House in London's Soho, we were escorted to a front of house table immediately in front of two rather impressive and imposing drum-kits.

Posh drinks and elegant burgers served, we settled into our seats to await a mystery performance. Subtle jazz maybe? Gentle tunes a possibility? Car crash in the making? Who knew? We certainly had no idea how this most unusual of gigs would pan out. The world's top rock drummer guesting in a jazz band that is still considered to be one of the top acts in its field. Curiosity was killing these cats in the front seats…
Continue reading at the Decibel Report.
We can confirm that Ian Gillan was in the audience at one of the shows, as well as a number of other celebrities were spotted. Quite bizarrely, absolutely no photo or video was permitted and strictly enforced (the picture above is from our stock). This just leaves us to hope that something was recorded professionally and will see the light of day some time in the future.
Thanks to Akemi Ono and Jim C for the info.