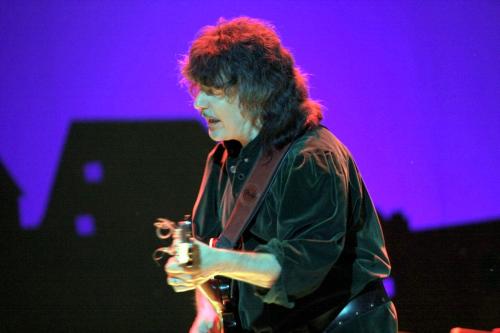 Italian publication SpazioRock has an article on Ritchie Blackmore with several quotes from the man (and this time it's not in a machine-reverse-translation).
The most important points included him ruling out the possibility of a Rainbow album or a full blown world tour:
No. Also, there won't be any Rainbow new studio album.
He reaffirmed that his commitment remains with the Blackmore's Night:
My commitment lies with the Blackmore's Night band but this is just a few dates for fun.
He also said that he actually thought of attending the RnR HoF induction ceremony, but decided against it:
No, I was thinking about going. And then heard Deep Purple management Bruce Payne didn't think it was a good idea, so I wouldn't like to turn up at an event when there are people that are hostile, like the management of Deep Purple. […] I wrote all the popular music that they play. I came up with the name and put the band together in the beginning to start the whole thing. But I haven't played in the band for 20 years.
On his recent finger surgery:
Recovery is coming along. Any operation on fingers is always involved. I don't anticipate any problems.
Thanks to SpazioRock and Team Rock for the info.