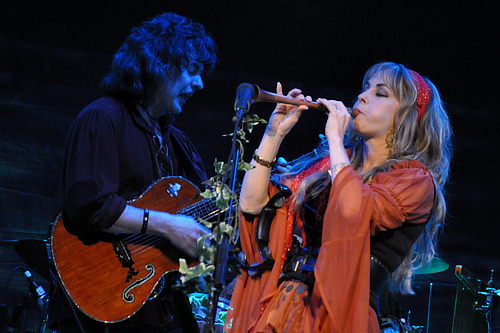 Ritchie Blackmore and Candice Night recently spoke to Italy's SpazioRock. Well, Ritchie mostly kept quiet leaving his missus and the interviewer to do the talking.
And this statement definitely proves wrong all those who – fifteen years later – still think that Ritchie Blackmore was somehow "pushed" by beautiful Candice into leaving Rainbow in order to found a band with her. In case anyone hasn't realized yet, with "Sixteenth Century Greensleves" – released in 1975 when Rainbow made their debut – Ritchie was already stating his own ideals musically. Along these years your band has undergone many line-up changes, and I've wanted to ask you this for a long time: why did you choose not to make any official statement about the reasons of such changes?

Ritchie: Its not of importance or interest to people. I've done it too many times. Only the end result, the music, is what is of importance.
Now you are in Germany for the traditional tour through castles and medieval towns, and we will be there from Italy like we do every year. Playing in castles is fantastic, much better than theatres: why is it so hard to arrange a castle tour in Italy, even though our castles are among the most beautiful and fascinating in the world?

Ritchie: One word: promoters.

Candice: Unfortunately that's true. Trying to organize a tour in Italy is incredibly difficult. Add to that the fact you want to play in beautiful castles instead of rock clubs and its almost impossible.
Read more on SpazioRock.
Thanks to BraveWords for the info.