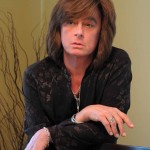 Joe Lynn Turner gave an interview to Norwegian metal webzine Eternal Terror. Quite frankly, nothing of consequence has been said, but in the interests of complete coverage, here it is:
One of the most memorable and fun shows I have ever attended was the Over the Rainbow gig in Malmø (Sweden) back in October 2009. The house was packed and everybody was so into it, and you guys just ROCKED! Do you recall that gig? Do you ever miss performing with Over the Rainbow? I thought you guys were awesome, and given that I was born in 1984 and missed out on all those early Rainbow tours that gig in Sweden in 2009 was like a dream come true for me. That was the closest to Rainbow I could possibly get, so for me it has a special place in my heart.

Yes, I do remember that show. The times spent in Over the Rainbow were fun and exciting. Thank you for your kind words. Glad you liked the show so much! We did hear from a lot of younger fans that this was the closest they have come to seeing Rainbow because they did not get a chance to see the band in the 70s and 80s. Glad we could fulfill that dream for so many fans.
Read more in Eternal Terror.
Thanks to Jens Nepper for the info.