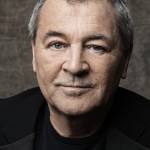 Greek blog Rock Overdose interviewed Ian Gillan and posted the proceedings. His answers sound like he wasn't completely enthusiastic about the questions, but here's what he had to say about the current state of the new album:
We don't have any plans worth talking about yet, but at the same time yes we are in process. We have had two writing sessions already but there is not a single song. However there is plenty of music.
He also confirmed that Bob Ezrin will be producing the next album as well.
Read more on Rock Overdose.
Thanks to BraveWords for the info.