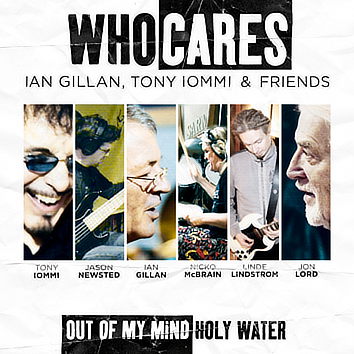 Ian Gillan and Toni Iommi's charity project WhoCares will release a compilation (with a few rarities thrown in) on June 22 via earMusic. Geoff Barton of Classic Rock Magazine spoke to Big Ian about the project:
Tell us about some of the stuff on the WhoCares album, beginning with the Repo Depo track.

Repo Depo dates back to 1991 or 1992. It was a three-piece – well, four, including me – very hard rocking band. We had Brett Bloomfield on bass, Leonard Haze (Y&T) on drums, and Dean Howard was the guitar player. Dean was in various incarnations of my touring bands over the years. I suppose you could call Repo Depo a kind of offshoot of the Gillan band. There are various bits and pieces of Repo Depo on YouTube, I believe. I haven't seen them myself but Brett keeps sending me messages saying: "You must watch this, it's awesome, man." We must have been together a year or more. They were all staying at my house when I lived in Buckinghamshire, between tours. But then I decided to return to Deep Purple for The Battle Rages On album. I was unable to resist the clarion call.
Ian also confirmed Bob Ezrin as the producer of the new album:
To close, we simply must talk about Deep Purple. It's true that Bob Ezrin is producing your new album?

It looks that way. I'm not sure I'm allowed to say anything until contracts are signed but it seems… let's put it this way, I'm booking a flight out to Nashville on June 23. So I'm sure he will be [producing], yes.

June 23 is when you're going to kick off the recording?

The whole thing, the writing and everything, yes. We've got six weeks to do it.
Read the whole thing in Classic Rock Magazine.
WhoCares compilation track list:
WhoCares – Out Of My Mind (from the CD single of the same title)
Ian Gillan feat, Iommi, Paice and Glover – Trashed (from Gillan's Inn)
Black Sabbath – Zero The Hero (from Born Again)
Deep Purple – Dick Pimple (unreleased Deep Purple studio out-take from Purpendicular)
WhoCares – Holy Water (from the WhoCares single)
Black Sabbath – Anno Mundi (from Tyr)
Ian Gillan – She Thinks It's A Crime (first time on CD or digital)
Tony Iommi feat. Glenn Hughes – Slip Away (previously only available digitally)
Ian Gillan – When A Blind Man Cries (live acoustic at Absolute Radio, unreleased)
Garth Rockett aka Ian Gillan – No Laughing In Heaven (live)
Ian Gillan feat. Mikhalis Ratzinkis – Getaway (available only on deleted vinyl LP)
Tony Iommi feat. Glenn Hughes – Let It Down Easy (Japanese bonus track of the album Fused)
Ian Gillan And The Javelins – Can I Get A Witness
Repo Depo – Easy Come Easy Go (unreleased)
Deep Purple feat. Ronnie James Dio – Smoke On The Water
Two more tracks are to be confirmed:
Gillan/Glover – Can't Believe You Wanna Leave Me
Gillan – Don't Hold Me Back
Thanks to Martin Johannessen for the heads up and to Ultimate Classic Rock for additional info.