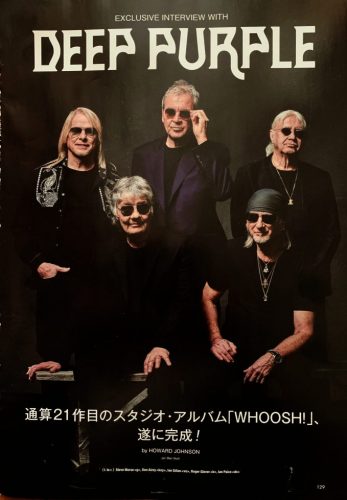 Japanese Burrn! magazine has a 17-page Deep Purple special in its August 2020 issue. The feature includes pictures, discography, and interviews with Ian Gillan, Roger Glover and Ian Paice. Our Japanese correspondent Akemi Ono has graciously supplied us with the reverse translation of the more interesting tidbits of the three interviews. Here is the first part. We will present the other two installments over the next couple of days.
---
Burrn! August 2020 edition
Interviewer: Howard Johnson
Deep Purple completed its 21st studio album Whoosh. Whoosh is, without doubt, a wonderful album. Identities are wide-spanned, melodies are easy to remember, with musical interaction which enhances the spirit, and packed with passion. It appears that bands which were born in the golden era of rock music no longer have the intention nor ability to revolutionize itself again, but with Whoosh, Deep Purple shows that while they progress, they maintain the essence of what made them such a wonderful band when they first debuted. That is a real feat.
Ian Gillan interview
Burrn!: How are you doing? You seem to be living through the current environment with a positive attitude.
IG: Fine, thank you. I grew up with Calvinist work values so I can enjoy anything I do, even if it was to clean sewers.
B: You don't seem to be down by the cancellation of the shows.
IG: The shows will just all be moved to 2021, I imagine.
B: Is it very important to you what other people think of your new album?
IG: I think what is most important is that I am satisfied. Of course, I am grateful to every person who buys our new album, but the standard of accomplishment is within yourself, and you know yourself whether that standard was met. I think we did a good job.
B: I think the new album is fresh and dynamic for a band with such a huge experience behind them. Why do you think that is so?
IG: Probably because no one wrote with the mind of writing for Deep Purple. It has been like that since we first rehearsed in August 1969. We jam for about 6 hours. When something interesting comes up, Roger starts recording. After a few days, we talk about it, and pursue what we like. What this means is that Deep Purple is an instrumental band. And that is what I mean by "no one wrote with Deep Purple in mind." During this process, I don't think of the melody or lyrics or even the title. It could all be for nothing if someone decides that they do not like the song. So, it is always the instrumental first, and then I join later. That has worked well, and at the end of the day, it sounds like the instrumental section supports the singer. It should sound like it, even if the truth was the exact opposite. We have always been a democracy without a leader. Although things have changed since Bob Ezrin became our producer.
B: Why is Bob so important to you?
IG: He has sped up the whole process. He encourages you, but also tells you when "you should stop beating a dead horse". He makes our life much easier. And he has made our sound very rich and wholesome. There are no longer "holes" in the sound. The sound that you hear on stage, with all the nuances, becomes what you want to recreate in an album. With Bob, this wish was realized, all of a sudden.
B: You said Deep Purple is an instrumental band at heart, and don't mention your achievements so much, but I was actually awed by your lyrics in Whoosh. They reflect the current world very intensely, with references to crimes with knives, and global warming.
IG: There comes a time when you think about the dignity of various matters, and you want to write about something other than fast cars and uninhibited women. To me, it came when I was in my late 30's. I call it the "grey pony-tail syndrome." The lyrics of this album is affected by where my thoughts were at the time of the writing. It was around the early summer of 2019. Extinction Rebellion (environmental organization) and young children stabbed or shot in London were in my mind at that time.
B: Drop the Weapon is definitely about young people's violence in London.
IG: The matter was in my mind frequently at that time. But at my age, it is better to give a hug rather than say harsh words. I want to tell young people that life continues, they should not waste their future with an act of folly at the spur of the moment.
B: Are you interested in getting new fans with the music you create?
IG: If new fans cannot find us, we are not sending the right signal. We have really never thought about the audience, the industry, the commercial side of the media. If we did, we would have to guess what would make us popular. We have never defined ourselves as a heavy rock group or heavy metal group or classic rock group. We have always kept a distance from "exciting movements". We have a long life because we stayed away from fashionable trends. I don't want to sound arrogant, but that was really our survival instinct. And that gave us freedom.
B: You have created so much music. How is it possible not to repeat yourself?
IG: We have what is called "horse's eyes". When we are jamming, someone would raise their face and give a sign by rolling their eyes. That means we are finished, we have pretty much given everything. Staying together for so long, we know when the horse's eyes are coming. It's like we are marching together as a group. Someone says "Make a turn!" and we can all turn at the same time. 95% of what is in Whoosh, and the two recent albums as well, were recorded live. There is not much over-dubbing, and most solos are recorded while we are creating the backing tracks. This has been useful in not repeating ourselves. We need to maintain a superb balance, almost concert level. That pushes us to the limit.
Technically, there is an infinite combination of melody, tempo, chord structure, and rhythm. Even now, my band mates practice for 6 hours a day. They practice basic things, but sometimes it becomes a free-flowing jazz. I just sit there. And all of a sudden, I hear master players absorbed in their music. I give my word that there is no room for repetition in that environment.
B: Which song would you like Burrn! readers to focus on from the perspective of something special or extraordinary?
IG: I don't use words like "special" or "extraordinary", but I know what you mean. I would recommend Step by Step. It is a perfect example of Deep Purple jamming style. It happened naturally. The song was born from a moody and short 3-4 phrasing, and became a crazy crossover song with a strange rhythm. It all happened live, and it was great to see the song shining through. The lyrics are based on the famous Niagara Fall scene of The Three Stooges.
I also like We're All the Same in the Dark. It is based on the theory I am contemplating, that if the reason for a war goes back one week, then the war lasts for one week. Every action causes the same level of reaction. The only reason wars are prolonged is simply the way we are brought up. We really need to have the ability to have doubts and think for ourselves.
B: How about Nothing at All? That is my favorite.
IG: It is my favorite, too. The guitar and keyboards are complete equals musically, and Don's solo, much like a fugue, is amazing. It's an unusual song for Deep Purple. I wrote the lyrics in 20 minutes. I don't want to lecture with my lyrics, but it shows 3 sides of the discussion on how we treat the world. The young generation, older generation, and mother earth. In this song, nature is depicted as an old woman.
B: How do you feel about the situation that you will not be able to perform these songs in front of an audience this year?
IG: I was looking forward to the gigs. That is our job, and that excites us. Let me tell you a story. When I was "one of the fans" back then, I went to see Cliff Bennett and the Rebel Rousers. I'm still in touch with him. When I saw him, I realized I wanted to do exactly what he was doing. To be in the middle of music, with wonderful players. Having an audience was not a factor, really.
B: You belong to the generation of musicians for which being on the road was always an option for you.
IG: Interesting enough, I am in the process of brushing up old materials. This reminds me of various incidents that happened during the tours, which makes me chuckle. It's difficult to imagine if anything could be more fantastic than traveling around the world with a group of people with the same objective. Musicians tend to have a dry, dark sense of humor because of all the difficulties we faced for being rejected on many occasions for contracts, canceled tours… We had already developed a stoic approach in the 60's.
In my first interview, I was asked to give an anecdote, and I didn't know what an anecdote was. I didn't realize I had created my first anecdote during that interview. All of that comes back to me in songs such as 69 (from Abandon), which was a song about a professional band. "Flying through the night in a beat up wagon, a mike stand up my jacksy." Six people and all of our equipment were jammed into a Ford Transit, and we drove all night. I didn't know what a roadie was. We set up and repaired the equipment ourselves.
Touring was wonderful, and I don't know why people have negative comments about touring. Interestingly, the touring environment prepared us for the pandemic.
B: Why is that?
IG: When you're touring with a rock band, 90% is waiting and 10% is exciting action. So, we were well prepared for a lockdown. It feels like touring musicians are paid for waiting patiently.
B: You are a very successful musician. Is it difficult to connect your current self with your younger self?
IG: Not at all. I don't have a sense that my life changed. I can go back immediately to my childhood when my grandfather was singing opera and my grandmother was teaching ballet. My uncle was a jazz pianist. And I was a soprano in a church choir!
The joy of music and performance, and being with other musicians, were always at the center of my happiness, and that never changed. That was true when I was in Episode Six and did not have a single hit. I remember making songs with Roger, thinking we wanted to make songs liked Lennon and McCartney. When we finally had a hit song in Deep Purple, Roger and I were already writing together for 5 years. We are a musical team.
Lastly, here's a story that shows my passion for music is unchanged. On Whoosh, there is a song called Dancing in my Sleep. There was an old Danelectro guitar in the studio, and Bob Ezrin suggested Steve to play it. The song itself is quite outstanding, but Steve's baritone guitar solo is truly amazing. I think it must be one of the best guitar solos I ever heard. That is the essence of my love for music. More than all of the music that we created in the past, what we are doing as Deep Purple right now excites me the most!