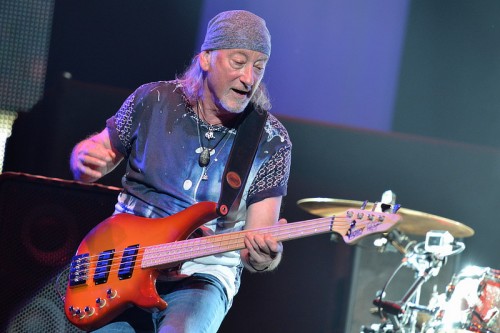 Broward Palm Beach New Times (is that a long name for a newspaper or what?) down in Florida has an excellent interview with Roger Glover. Here are a couple of quotes to wet your appetite:
Somebody once asked me, "How come you don't write songs like 'Highway Star' anymore?" I said, actually we do, but they don't sound like "Highway Star." We'd be a parody of ourselves, and that's when you get in trouble and become intimidated by your past.
Anyone who actually gets out from the computer or the TV and gets off the couch and has the energy to go see a live concert deserves our absolute gratitude. And that's what we live for. People doing that. It still happens. The internet has robbed us of a lot of things, but people still get up and go to a concert, and I'm very grateful.
Looking back now, you can see that something quite magical happened in the late '60s and '70s. There was something going on there. There was a huge creative explosion, if you like. The record companies were all run by people who loved music, unlike today. You could write songs about anything, in any particular style, and people took it seriously. Plus, the tastes ran across the board. Now it's become so polarized and shackled. Music isn't as important in people's lives as it was then. So I think we were part of a huge cultural revolution without even knowing it.
Go read the whole thing. It's well worth it. You'll learn how it feels to sign stacks of 40 records, to get stuck in your own traffic jam, what drives him to keep touring, and many other things.
Thanks to Andrey Gusenkov (deep-purple.ru) for the info.
PS. the photo above is from the Ceasars Casino in Windsor, Ontario, August 21.