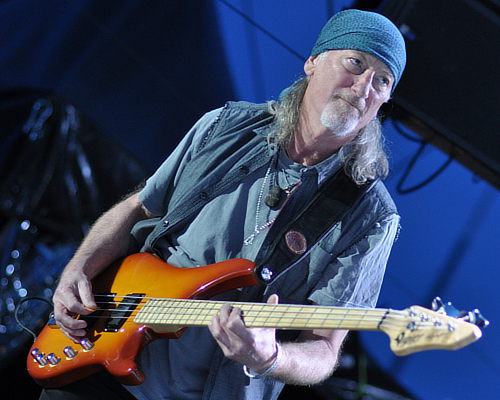 Jeb Wright interviewed Roger Glover for the Goldmine magazine. They started with Now what?!, but quickly switched to topics not covered in recent interviews. Roger touched upon a couple of things that to say always cause heated debates on this site would be an understatement of the millenium:
GM: How do Steve Morse and Don Airey compare to Ritchie Blackmore and Jon Lord?

RG: In a word, they don't. If we had replaced Ritchie Blackmore and Jon Lord with look-alikes, or sound-alikes, or anything-alikes, then it would have been a shame. It would have been hanging on to past lulls too much.

You have to change. When someone else comes into the band, you can't expect them to be anything but themselves. Our band really works together when we are all 100 percent ourselves, as then there is nothing pretentious going on.

Steve and Don bring different colors to the palette. I love the early stuff that we did; don't get me wrong. I am very proud of it, but we are who we are now, and that is really all we can be.
GM: "Now What?!" has a lot of songs that would sound great in concert, but how can you put these songs in a live set when the set is already filled with such classic songs?

RG: That is going to be a battle, isn't it? We are looking at playing at least four or five of the new songs in concert. We suffer a little bit from the fact that we don't change the setlist enough for most hard-core fans.

The truth of the matter is that people want to see and hear songs that they know. It is difficult to not recognize that people want to hear "Lazy," "Highway Star" or "Black Night." Although, most people around the world, most audiences we go to, in Eastern Europe especially, are teenagers and young people. We get to relive it all through them, which is a great experience.

To be honest, after so many decades of playing "Highway Star" every night, we dropped it this last tour. You can't please everyone, so we will just have to continue to please ourselves.
Read more in Goldmine. As it is often with Roger's interviews, there's quite a bit more stuff in there that is quite interesting.
Thanks to Andrey Gusenkov for the info.