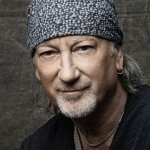 Roger Glover gave an interview to Guitar International, which, quite naturally, started out with the talk of the new Deep Purple album. After opening with excuses for the eight year wait, he proceeds straight to the catalytic role of the new producer, the eminent Bob Ezrin:
Robert: I have to say the band sounds really energized. Was it exciting to start writing with the band again?

Roger Glover: It was. Bob really injected a great stimulus into us. He was blown away by the musicianship of the band. He said some very astute things. He said "Trying to get ahead with a big riff on the radio ain't gonna happen. Times have changed." He said, "What I saw last night in the concert, that's what people want to hear. You should stretch out."

And those words, "stretch out," hung with us. Then the next writing session we had, we took him at his word. And just having him on board and eager to produce us was a stimulus in itself, because he's a man with a huge track record. Those writing sessions were very productive and I think we came up with some very original stuff. Original when you've been around as long as we have.
Read the whole thing in Guitar International.
Thanks to BraveWords for the info.