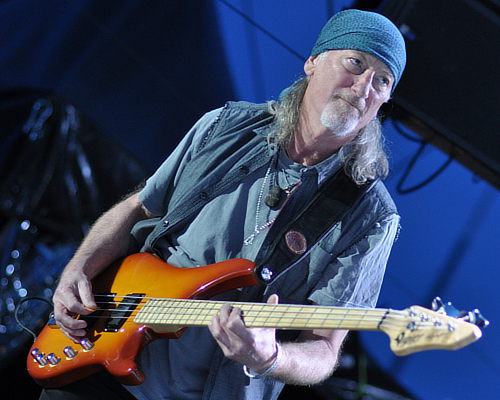 Before the start of this tour Roger Glover did an interview for The Aquarian. This one is rather interesting as it digs a tad deeper than your usual tour-promotional fare.
How is the writing going? When did you start?

In March, we all convened in Spain, at a studio in Spain, up in the mountains. Quite idyllic. We spent about nine days, just jammed every day and got a whole bunch of ideas down.

And we'll continue working on it later this year, probably—September, October—and it'll be out next year. I can see into the future.

I hope the world doesn't end before it comes out.

No, no, no. I know the date the world will end and it's not the one they say. But I'm not telling you.

That's fine. I'd rather not know anyway. Are you writing all the time still? It seems kind of strange to get together once, then tour and go back to writing. Is that just everyone's schedule, or do you prefer to work that way?

Well, a lot of bands kind of write on the road. They actually work as a band. We don't actually do that. We work as five individuals, most of the time, and writing sessions have to be orchestrated almost as closely as a tour. We all have to fly in somewhere, we've all got to stay somewhere, etc.

We all live in different parts of the world, so you can't exactly call someone up and say, "I've got a few ideas, come on over tonight." It's got to be a different way. So writing tends to get done in small batches as far as the band's concerned, but individually, we're all writing all the time anyway. That's what we do.
Read more in The Aquarian.