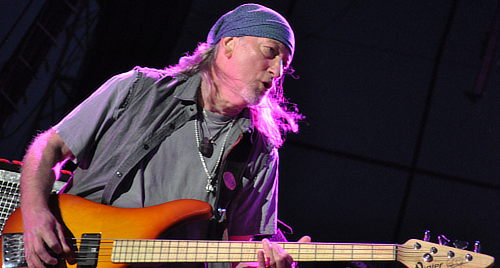 Roger Glover did an interview with the Swedish based Metal Shrine blog. He spoke about If Life Was Easy, divorce, fatherhood, Barbie Benton, Phil Collins, and touring with orchestras, among other things.
During all these years, were any of these songs stuff that you brought to Deep Purple or were they just made for a solo record?

RG: The thing about Deep Purple is that you don´t bring a song to a writing session, because they don´t like that. I mean, we don´t like that! If anyone brought in a song that was completely finished and all we had to do was copy it, neeehh, that´s not what Deep Purple is. Deep Purple starts its songs… I mean, we don´t write songs for start, they kind of evolve from a series of jams and really what you want to bring into a Deep Purple session, is just a riff or a chord sequence or a rhythm or a line or two and that´s all and then everyone else just kind of join in. There are a couple of ideas that I might have considered for Purple, but we had a writing session and a lot of my ideas went into the writing session anyway, and that was in March. There´s a Purple album bubbling under and we´ll get to it next year.
Read more on Metal Shrine.
Thanks to BraveWords for the info.