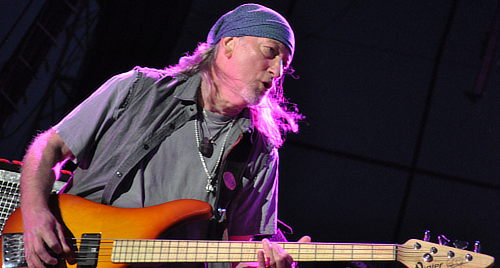 Another interview with Roger Glover — this time with HeadBanger.ru. Turns out a lot can be covered in 15 minutes — broken hearts, butterfly balls, parenting, singing talents, and meetings with presidents. Cue eloquent and insightful.
By the way, have you played this album to your Deep Purple bandmates?

No.

Why not?

When I get copies of the album, I'll probably give them a copy each. But it's a strange thing, we don't really tell each other's solo careers in between us. I listen to what they do, and maybe they listen to what I do, I don't know, we don't talk about it that much. Ian Gillan really likes "Snapshot", he told this to me, he said it's a really good album. But it's not something that you have to do. Right now I don't have copies of the album. It's interesting – talking to people like you who have it, and I don't. Anyway, I will give them a copy of the album, but I won't play it for them, because I don't want to be in the same room when they listen to it. This is an uncomfortable thing – if someone plays you a piece of music, you are expected to say, "Oh, it's great" even if you don't like it. And I want to give them the freedom to dislike my album without feeling uncomfortable.
And about Purple's new album:
In a recent interview you were asked why is it taking Deep Purple so long to release a new album, and you answered that there was disagreement in the band about whether you should be doing an album at all these days. Have you made any decision on this matter since then?

Yes, we have. The whole thing about doing an album is that we live in different parts of the world. When we don't tour, we go home to our families, and it's very difficult to get everyone to agree to come out and do something when there's no particular reward. Albums are not the support that they used to be, they are basically a losing proposition. However, I'm of the opinion that whether it's a losing proposition or not, we should do it. Although I said there was disagreement in the band, it wasn't meant to say we argue. We have this rift all the time, and we're still good friends. It's not a bad thing to disagree. But some people in the band say, "You know, times have changed, it's now the era of MP3 and iTunes, we should just put out a song or two via the Internet." It's not that we don't want to work or that we have lost our creativity. It's just that we couldn't figure out which way to go. But we did actually make the start this year – in March we went to a studio in Spain and had a writing session for about nine days. And it was very productive. Every day we'd go to the studio and we'd just jam and jam. We got out of it a dozen ideas floating around, they are not finished, they are just ideas, some are more finished than others. I think later this year or certainly early next year we will be getting together again somewhere to finish those, and it's gonna be cool. I'd hope that we will have an album to come out next year. But we're not gonna release it until it's finished. (laughs)
Read the rest of the interview.
Thanks to Andrey Gusenkov for the info.