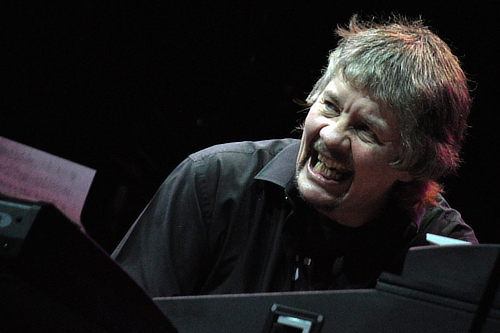 Here's a little roundup of the North American press coverage for the tour that was not featured elsewhere on our site.
The Examiner has a positively glowing review and slide show of the first night at New York's Beacon Theater on June 14:
Rock music has evolved dramatically since the heydays of the 60s, with grunge, indie, heavy metal, and thousands of sub-genres offering a rich tapestry of audio brilliance. But every one of those bands, from Megadeth to Nirvana to Arcade Fire, any band that has ever written a riff and said "hey, this rocks," owes something to Deep Purple and its distinguished lineups over the years. That made last night's show all the more enjoyable, beyond its raucous, two hours of straight up hard rock music that made heads bang and fists pump. The members of Deep Purple are class acts all the way, even taking time to sign autographs for fans waiting on the 75th Street stage entrance, and will serve as shining examples of how rock n' roll is done for every future rock star to come.
Read more in The Examiner.
MLive.com has an interview with Roger Glover promoting the Detroit show on June 17. He explains how the idea of an orchestral tour came around:
We tour constantly all around the world. We have high profiles in most of the places. In America, it's dipped a bit. We thought, 'What can we do to say hello?' Our manager approached promoters and someone came up with the idea of extra musicians or guests or something like that. The promoters really went with it. They believed in it so we thought, 'Why not?'
Read more on MLive.com.
Across the river from Detroit, The Winsor Star has interviewed Don Airey:
Just spoke with Jon recently. He heard we'd added Hard Lovin' Man to the set. He told me to play the organ line just as loud as I possibly could. He also said never get in the way of Ian Paice's (drum) fills.
Read more in The Windsor Star.