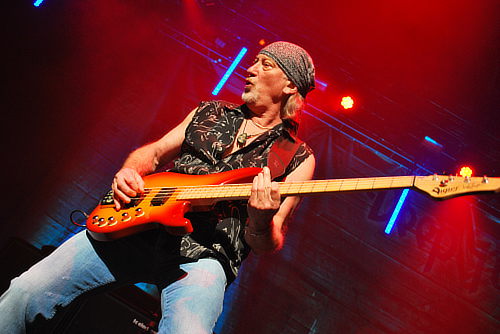 Times Colonist from Victoria, BC, has published Roger Glover's interview/profile:
Now, every night I step on stage I value it immensely. [Performing] is something very few people get to experience, therefore I can't take it for granted. That's the only time when there's no distractions. There's no phone calls, there's no computers, there's no family, there's no children. There's nothing except for your music and the audience. . . . It's a lovely moment in time, and you're so in the moment. You brain is whizzing along at light speed, because you react to what the others are playing. It's a moving, liquid thing. You keep it together as possible, and also as expressive as possible.
Read more in Times Colonist.
Another interview with Roger, rather interesting, was done at the beginning of the tour by a Maritimes' radio station Q104. You can listen to it in their blog or directly: part 1 and part 2 (mp3, 17MB total).
The coveted Blooper Award of the tour goes to Vancouver Sun, whose review of the local gig reads:
It took a few songs for Paice, who was wearing an ankle brace, to find his vocal footing, the rather unforgiving Highway Star proving challenging right off the bat, the rest of the band overpowering him.
And if you thought it's the only blooper of the article, no. It is illustrated by a photo of Big Ian, whose name is spelled (you've guessed it right) Gillian.
Thanks to Monika Schwarz and Yvonne Osthausen for the info.