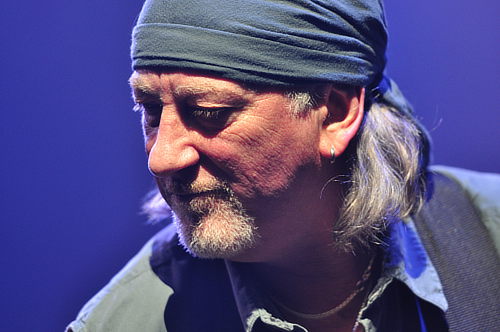 Roger Glover chats with Vintage Rock about Now what?! from his home in Switzerland (this was done probably before the album was released):
This is your fifth record with Steve Morse and your third with Don Airey and I have to say, these two guys really come to the fore. With Don Airey, it's like you let an animal out of the cage and he's channeling Jon Lord. I mean, where did that come from? It sounds like he's really come into his own.

I think he has, especially on this record. He's found his mark; he's found his place. He's had a great career working with many, many people and been in a few bands, but never in a band like this. I think he really enjoys it and he feels privileged to be in it. He was a huge fan of Jon's all his life and he's very reverent towards Jon and has a great deal of respect. But Don has to be Don. An organ is an organ. It sounds like a Hammond organ. It doesn't sound like anything else. But it's all in the playing. He couldn't ever replace Jon, but he has to be himself. And he, himself, is a completely different player and there's a whole different sensibility about him, which is right. But I think he's confident enough now to really shine with it. And I think he does on this record.
There's this idea that's floating around that all of the living members, past and present, of Deep Purple should get together and perform the ultimate Deep Purple concert. I actually talked to Ian Gillan about this a few years ago and he told me someone in Russia had proposed that idea. Do you have any opinion about that either way?

Yes, I do. First of all, impossible. Second of all, improbable. And third of all, why the hell? (laughs). We're here now; we do what we do now. Fans live in the past, I understand that. I'm a fan myself. I love some old recordings. My first encounter with Little Feat, for example, changed my life. I'll always love that. But you can't expect Little Feat to be that now, because they can't. They're different people.
Read more in Vintage Rock.
Thanks to Blabbermouth for the info.