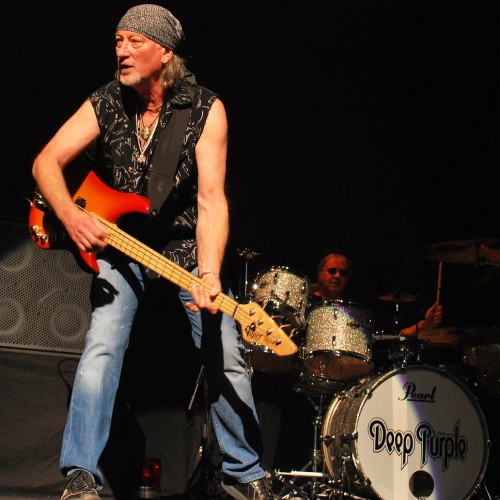 Roger Glover and Ian Paice did several interviews for the German press while attending the documentary premiere in Düsseldorf. Most of them by now are quite repetitive, so we won't list them all, but the one from WAZ.de is a wee bit off the beaten path. And nothing like stirring a little controversy asking about a hot political topic or two.
We are now offering it to you in reverse translation from German, with all the usual caveats applying.
---
Wouldn't it be tempting to play a concert without Smoke on the Water in the setlist?
Ian Paice: Never! We're not crazy! 90% of the audience come to hear the old stuff!
Do you really take it to your heart what your fans have to say?
Paice: You can not make it right for everyone. Our real fans are pretty critical, they immediately speak out if they don't like something. They have their own taste, but that's okay.
Roger Glover: It all has changed with the Internet. When we played the first test concerts with Steve Morse, my stepson said in the morning: "Hey, it was probably a great show yesterday. — It's all over the Internet." I've even made friends with a few fans over it. But you have to set boundaries between them and yourself.
Paice: Oh yes, three or four years ago I had a few Jack Daniels' too many and signed up for Facebook — oh man! I was busy for two days.
Glover: It is not like in the old days anymore, when you could leave your fan mail somewhere in the corner because it simply became too much. Nowadays people expect to get an answer.
You have hinted lately that the next tour could be your last.
Paice: It is more likely that we will do another album than we would do yet another world tour after this one. The music that you record is immortal, but the musicians are not. Some time age will take its toll, either you won't be on that planet any more or you can't play any more like you should. That day might come sooner than you think. At the moment we are not brave enough to say: "This is the end, this is it!"
So what then?
Paice: After the tour is over we'll take a break for six months and then decide what to do next. And maybe we'll play a concert here and there. In any case, we do not want to make a farewell tour like other musicians — and two years later say: "Okay, we are back".
Glover: The first annual reunion tour… (laughs)
But are you not bored to play the same songs over and over?
Paice: A good piece of music is still a good piece of music even after 50 or 100 years. And when it's really good, it's always fun to play it. I'm sure if you go back 200 years, you'll find a lot of classical pieces that are rubbish. What we know is the good stuff. And our music is like jazz: there is a structure, but within it everybody gets a chance to do something different every evening.
What do you think about Trump and Brexit?
Paice: I voted against the Brexit, it takes away a lot of amenities from me. But: the European Union was founded as an economic community, which was a good idea. What we have now is a federal state with far too many regulations from Brussels.
Glover: I didn't vote, I've been living in Switzerland for eight years now. I would have voted to stay. And against Trump.
Paice: What a rebel you are! Trump talks like the blue suits [??? – ed.] after they had a few drinks at the bar. He does not talk like politicians should be talking.
Glover: I lived in the US for 30 years — today it looks to me as if they have a new civil war. Not North against South as it used to be, but the Middle against the East and the West coasts. It's a disaster!
---
Thanks to Deep Purple Tour Page for the heads up.
Interview: Jens Dirksen for WAZ.de.