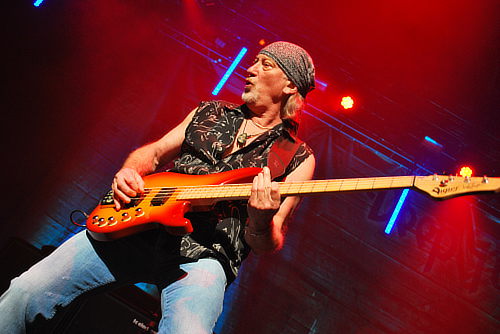 Roger Glover guested on the Noize in the Attic podcast on August 29. And although a lot of material was covered in the lengthy interview, what made waves around the 'net as far as The Guardian was, obviously, the Hall of Fame bit (we've covered what he thinks on the matter before).
Use your favourite player to listen to the podcast (MP3, 155M) or the embedded the player below. The interview segment starts around 29 minute mark and continues for about 50 minutes, with music. (On a side note, Smoke was not played; it was Into The Fire, Hell To Pay, Meanstreak, No One Came and Wicked Ways, with a Judas Priest track thrown in for a good measure.)
Thanks to Blabbermouth and Andrey Gusenkov (deep-purple.ru) for the info.
PS. And kudos to the band's publicist (or whoever did the job) on this past North American tour. Lots of interesting, well researched, in depth interviews, done by knowledgeable people, with very little to none of the "Mr. Grover, Mr. Gillian, you must've made a million" stuff.