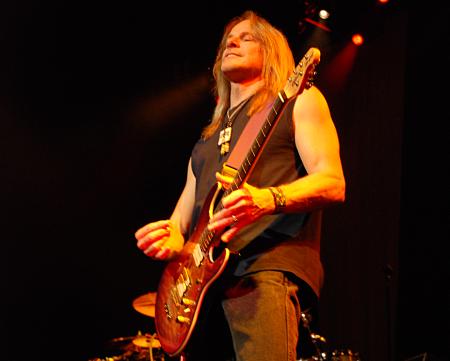 [Warning: contains setlist spoilers] Cory Frye, who became mildly famous in these quarters after his passionate review of Now what?!, has a feature in Oregon's Albany Democrat-Herald promoting Purple tour. It is a well written introduction of the state of the band in 2014 for the uninitiated, based on an interview with Steve Morse.
On joining the band:
Roger had a lot to do with that. He has very eclectic tastes. He'd heard a live performance I'd done with the Steve Morse Band — all-instrumental, something that might have turned off a few rock players, but Roger was intrigued. When I heard they were interested in me, I thought, 'That's interesting. Do they know what I do?' But it's worked out well.
On Don Airey:
Don's a vast well of musical knowledge. He's wonderful to play with, generally good-natured and easy to get ideas back from. He'll throw them back with a variation. We don't even have to talk. The intro to "Uncommon Man" ("Now What?!") was totally improvised, just us sitting in the studio with Bob (Ezrin, producer) telling us, "Just jam now, like I saw you do in concert." That's a wonderful thing. I try to guess the next chord Don's going to play, and he tries to guess where I'm going.
Read more in Albany Democrat-Herald.
Ah, and by the way, if you believe setlist.fm, Highway Star was back to the set yesterday in Arizona as the opener. Which means Après Vous is out and we're left with just 3 songs from the last album: Vincent Price, Uncommon Man, and Hell to Pay 🙁
Thanks to Andrey Gusenkov (deep-purple.ru) for the info.