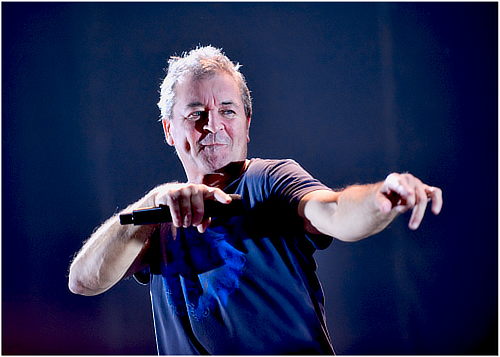 Rolling Stone magazine (shock! shudder! who'd have imagined they still write about music?) has an interview with Ian Gillan, in which answers the question recently raised elsewhere.
After the conversation detoured from the new album to the Rock'n'Roll HoF nonsense, it ended up with this:
There was a lot of controversy this year with Kiss' current members not wanting to play with their original members at this year's Rock and Roll Hall of Fame induction. Would you be willing to play with the group's founding guitarist, Ritchie Blackmore, who had a bitter split with the band in 1993, at the ceremony if you were inducted?

Well, we are the living, breathing Deep Purple. This is the longest that any lineup has ever been together in this band. And it would be unconscionable to think about bringing Ritchie in. I don't have an issue with Ritchie, nor does anyone. I've been in touch with Ritchie recently and everything's cool, so there's no bitter, personal problem. We're too old for that and everything's in the past, but no. That would be out of the question. How insulting that would be to [current guitarist] Steve Morse, for example? So if that's the stumbling block, fair enough. Never the twain shall meet.

Why do you say that?

I'm saying what I'm about to say not to wind Ritchie up, if he's reading this. He knows that we've got to talk about these things. So I say this with no rancor, and let's get the record straight: I was just as much of an asshole as Ritchie was. But Ritchie carried it on for a little longer. Had Ritchie stayed with the band, it would have been all over. It would have just ended. Without any doubt in anyone's mind – it was all over. So the day he walked out was the day we had to rebuild. We had Joe Satriani for one year, and he got us over the crisis, and then we got Steve and started to rebuild. Within a couple of years, we started playing arenas again, and it's been fantastic ever since.

It's good to go through those crises. It doesn't do your heart any good, but that was the spirit of the band. So to go back to the question of "Would we do the show with Ritchie?" I think that would be hugely disrespectful to what I call the living, breathing, Deep Purple. There's always been a living, breathing, Deep Purple, good or bad at any stage of our evolution, and how it is now is particularly healthy and it wouldn't be right.
Read more in Rolling Stone.
Thanks to Yvonne for the info.