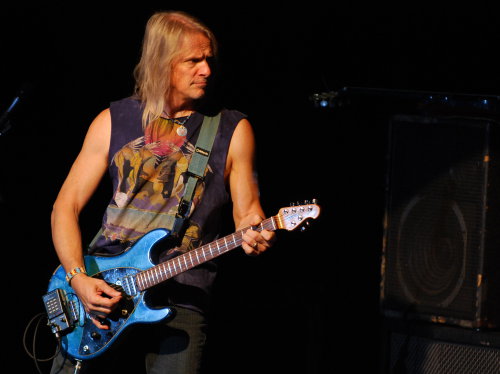 An article published today on Guitar International starts with
Steve Morse is sitting in a studio on the outskirts of Orlando, Florida, chewing on a chocolate chip cookie and waiting patiently for the members of his band to show up for rehearsal. The band that's he's waiting for, though, is not made up of his regular musical partners. They are not the members of Dixie Dregs, not the members of the Steve Morse Band, not even the members of Kansas. No, this time Steve Morse is waiting for Ian Gillan, Roger Glover, Jon Lord, and Ian Paice – a group of Englishmen known for almost 30 years as Deep Purple.
We hope your heart didn't skip a beat. Before the rumours start spreading like a wildfire, the article containing an extended interview with Steve is a reprint from May 1995 Guitar Magazine, when the band was indeed almost 30 years old. It is, none the less, an interesting read with the benefit of the 15 years of hindsight:
They asked me when we went on tour if I wanted to play any of my stuff. I said no – not because I was scared of how it would sound, but because the tickets that people were holding started with a 'D' and not an 'M.' Like any musician that performs for a living, I just wanted to do what was right for the show. In that light, they never had to tell me how to play, or what not to play. I know what people want to hear and I wasn't going to change it, because it's amazing to see the power some of these songs have over a crowd – it's like pushing a button. It's a rush for me, but I also know that it's coming from familiarity with what Ritchie wrote. For me the challenge, live, is to make that work. So to play someone else's stuff literally, in the style of the tune, I'm willing to be adaptable. I would do the same thing to a bluegrass tune that I might bring into my own band. What I do is just drop some parts that I might normally play in my style, things that might not be as interesting in the context of the song. On the other hand, I'm playing a lot more with the whammy bar in Deep Purple than I have recently [Laughs]. It's funny, because when I first started playing, and especially all through college, the whammy bar was a big part of my style.
Read the rest of this rather lengthy and in depth article on Guitar International.
Thanks to George Kikonishvili for the info. We hope he didn't start another rumour already. 😉