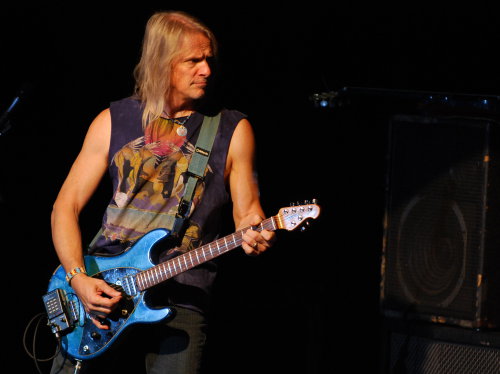 Last weekend Steve Morse did a 3-night stint in New York City with his own band, plus sitting in with the Les Paul Trio on the fourth night. Guitar Player magazine has met him which resulted in a brief interview:
What is the difference between the way you play with Deep Purple and with your own band?
With my trio there is a lot more pressure because I am playing melodies and lots of difficult parts and changes. If it is a simple melody I try to enhance it by rolling in the right amount of synth or delay, or changing the pickup or tone setting. During difficult melodies, like "On the Pipe," I have to adjust the balance between the wet amp and dry amp, then there is not even an eighth-note between the melody and playing this rising chord part, and I have to turn the synth on, go to a different pickup, etc. With my band the solos are really a chance to relax. With Purple we have a keyboard and melodies coming from the vocals. The only time I am in there crucially is during the solos.
Read more at GuitarPlayer.com.
Thanks to Yvonne Osthausen for the info.