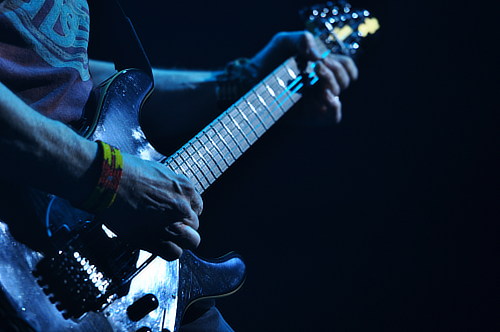 Music Radar has a Steve Morse's interview with the focus on his old guitar — a Telecaster body with a Strat neck and innards from hell, lovingly referred to as the Frankencaster — the one that he used before Music Man came up with his signature instrument:
…I was helping out a friend in South Carolina, doing a session. Instead of money, I was paid with a guitar – a black Telecaster with a maple neck. It had the regular Tele lead pickup in it and a PAF-type humbucker from a 335 in the neck. There was a lipstick pickup in the guitar case – the previous owner had removed it.

At the time, I didn't think too much of it. I kind of assessed it like this: The guitar feeds back; it doesn't tune; the maple neck is too slippery to play when my hands are sweaty; and one of the presets on the three-way switch makes no sense – it has a capacitor, which takes away all the high end. I was baffled as to why people thought Telecasters were so great.

There were a lot of things I could do, though, and I sort of looked at the guitar – all this wide-open space on it – as a blank canvas. Anything was possible.
Read more on Music Radar.
<boo>Music Radar has spread the story onto 5 pages with over 3/4th of each page occupied by ads. Get your adblock filters ready.</boo>