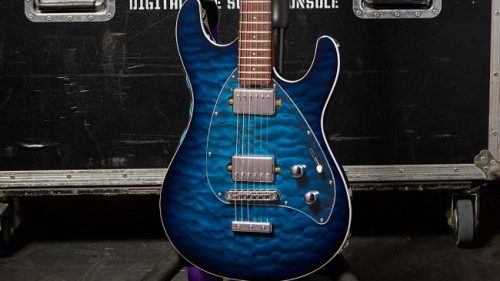 Steve Morse gave an overview of his touring gear to the Music Radar, including his new guitar — an Ernie Ball Steve Morse 30th Anniversary.
This is the most simplified version.

For the first time ever it's got an active circuit. I've been resisting this for a long time, but I know John Petrucci and Steve Lukather's guitars have these and they always sound great.

So I agreed to try it and it gives me a different sound, a more modern sound. And I agree I'm not the most modern guy. I use it during the show and there's nothing else that will get the sound. It's two humbuckers, and Dudley at Music Man made these. Again with the multiple switch it's possible to do anything [with coil split and combinations]. The transparent [plexi] plates were originally a plastic like my other models but when I saw the finish I thought it was criminal to cover it up.

We always keep the scale and length the same and it will fit into a student-size gig bag, I hold it under my arm and it will fit right on board in the overhead [luggage]. It's not a huge guitar but it's got everything you need. In fact, it's longer scale than a Firebird.
Read more in Music Radar.
Thanks to BraveWords for the info.