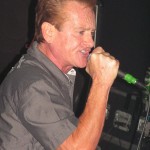 In his September 2013 interview with Songfacts Graham Bonnet talked about the guitar player luminaries he had worked with during his career: Ritchie Blackmore, Yngwie Malmsteen, Steve Vai, Michael Schenker. He took time explaining how he got into Rainbow and how he got out of it:
Songfacts: If you think back to 1985/1986, it seemed like the majority of heavy metal bands had spandex and huge hair.

Graham: Yeah. That was not where I was at. I got roped into being a so-called "heavy metal singer." When I was living in England, I was doing R&B and pop stuff, and I was very much into '50s music, so I had the suit and the tie and the bend-back hairdo from the 1950s. I was into that very much, the 1950s sort of thing.

I was given the chance with Rainbow and I went over there and auditioned with them. When they gave me the job, I wasn't sure I should take it, because I didn't think I fit in at all. I didn't want to grow my hair long, wear spandex and all that kind of thing. It's not me. I just didn't want to do that. That's a uniform I could never fit.

Songfacts: How did you originally cross paths with Ritchie Blackmore?

Graham: That was through Roger Glover. One of my friends, Mickey Moody, was playing for Whitesnake at that time, and I think Roger was producing their album. This is 1970-something. Mickey told Roger that I was doing some solo stuff, which was successful in places like Australia and New Zealand. Weird places – everywhere but England. Roger wanted to know what I was doing, so they invited me over to this chateau on the border of Switzerland and France, and they gave me a song to learn. I had to learn a song called "Mistreated," which I didn't know anything about. I didn't know anything about Rainbow at all, to be honest with you. So I had to buy the albums and learn one song as an audition.

Roger phoned me up and said, "Will you come over and do a song with us?" And so I went over there and sang at them and they gave me the job. That was it, really. Then I went home, thought about it, and I said to my manger, "I'm not right for this. I'm not like these other guys, long hair and all the rest of it. I don't fit." But I did in the end.

Songfacts: Would you say that played a part in your not staying very long in the band, that you felt like you didn't really fit with that band?

Graham: Yeah. It came to a somewhat slow end. Because Cozy Powell [drummer] left the band before we started rehearsing for the second album in Copenhagen, and rehearsals were with Bobby Rondinelli, the new drummer who came in. Cozy was a very close friend of me and Don Airey, you know. We're very close, and when he left, Don was threatening to leave. Ritchie didn't sometimes turn up to rehearsals, so it would be me and Don and Bobby Rondinelli there, and sometimes not even Roger Glover.

They'd look at each other, "Well, what are we doing?" "We're rehearsing for the next album." "Oh, okay." And we only had one song, just a song that Russ Ballard wrote, called "I Surrender." That's the only song we had. So we're sitting around looking at each other and Ritchie would come in for like half an hour and plonk on his bass pedals or whatever the hell, and then he would go. It was unproductive. The thrill had gone, so to speak.

Bobby Rondinelli really wanted to fix it and get on with it, but we just didn't gel and nothing was happening, so I went home. I went back to LA and the management called me and said, "What do you want to do?" I said, "Well, nothing's happening." I'd put down some backing vocals to the song "I Surrender," that's all I'd done on this album, because it was not going anywhere. So he said, "Do you want to sing the songs you like and have another singer sing the songs you don't like?" I said, "Well, there's no songs there. And two singers – no, that won't work for me."

So I left the band. That was it.
Songfacts: On the Rainbow album, you didn't write any of the songs, right?

Graham: No. Well, the melodies I did, but I was never credited for.
Songfacts: I would also be curious as to what you could do with the classic Rainbow lineup. But I don't think that Ritchie Blackmore does rock music anymore.

Graham: I don't see that happening ever again. He's gone his own way again. He's got his own music he's gone into that he really loves to do. He was a big Jethro Tull fan, I always remember that, and he's gone that way with his wife, more so the medieval deal. He's found his niche, so to speak, and I don't see him ever going out there and playing "Smoke on the Water" or "Since You've Been Gone" again. It'd be great, though. I'd love to play with him again. He's a good friend and a good guy. I got to know him really well. He's not what people think he is.
Read more on Songfacts.