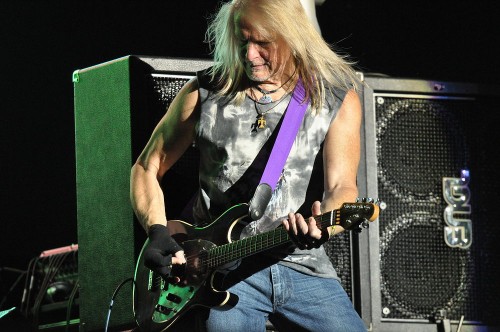 Steve Morse spoke to the Guitar World and (we think) it was the first time he went on record in such detail about his arthritis and how it affected his technique:
For about 50 years, I played with my thumb and two fingers on the pick. It really helped me play with exceptional clarity and muting. There are a lot of advantages with it. The only disadvantage is it wears out your wrist after 50 years. But I was doing 10,000 notes a day… most people should be fine! Now I've had to switch to one finger and the thumb because I have arthritis in my right wrist. It's very painful to flex my wrist, so I save that for gigs.

I prepare with topical painkillers and other things too. I've switched to playing from the elbow. Certain string-skipping patterns and direction changes need the wrist to ensure you don't hit adjacent strings… So now I have to practice longer and think it through. I've even changed how I play certain things, choosing a more laborious left-hand fingering to avoid skips with the right. It's far from ideal, but I have to keep my chops up and finish strong!
Read more in Guitar World.
Thanks to Gary Poronovich for the info.