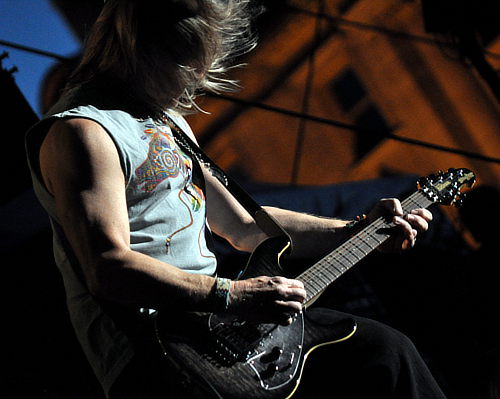 Guitar World magazine has an interview with Steve Morse:
GUITAR WORLD: Now What?! is Deep Purple's first studio effort in eight years. Why did you decide to make the album now?

Actually, I was one of the guys asking the same thing! My vision was every tour we'd do another song and just release it on the web site. I'd say, "Don't even try to sell it, because things are different these days as far as how people listen to music." But the rest of the guys were like, "Well, this is what we do, this is what we've always done. So let's do the best studio album we can." And Bob [Ezrin] agreed. So I got into it wholeheartedly.

You cover a lot of stylistic ground on the album. There are plenty of straightforward rockers, like "Hell to Pay" and "Weirdistan" but also mellow, jazzy cuts, like "All the Time in the World," and more epic tunes, like "Above and Beyond."

I think we just naturally do that, because Ian Paice is one of those drummers that can play swing-type stuff as smoothly as rock. So it leaves room for a lot of different feels. "All the Time in the World": the verse in that is kind of slinky and relaxed but still has a little bit of swing to it. And "Above and Beyond" was me sort of pushing the band musically in a certain direction. I was imagining an orchestral background mix with sort of a Zeppelin-y heaviness. And chord-wise I guess it's a little more proggy, more like the kind of thing I might have brought into a Kansas writing session. Lot of different triads over the tonic, which sort of stays the same. So there were a lot of different ideas.

One of the great guitar spots on the album is the intro to "Uncommon Man," which begins with an extended, unaccompanied solo from you. How did that come about?

That was Bob, pure and simple. I don't think I would have thought to do anything like that. But he came to one of our shows, and afterward at the studio he said, "I want you to do something like you did at the concert." And I said, "That was improv." So he said, "Well, then do an improv. You're rolling." We were all in a circle looking at each other, and I just started playing like I would live. And Don [Airey] has super-incredible ears, so he heard what I was doing and just followed along. Then when Don started leading with the chords, I had to listen and try to follow him. And if you listen to the song, there's one chord where I didn't quite get it. There are a couple notes in one of the runs that don't completely match. I meant to do that! [laughs] But it was just one of those moments where it was the entire band doing the take and there was no way to fix it. It was literally a moment in time. And I love when we keep takes, especially when it's the first take. Even if it's not perfect, it's really cool to have those spontaneous moments.
That was just a preview. The complete interview will appear in Guitar World August 2013 issue (the one with Jeff Hanneman on the cover).
Thanks to Andrey Gusenkov for the info.