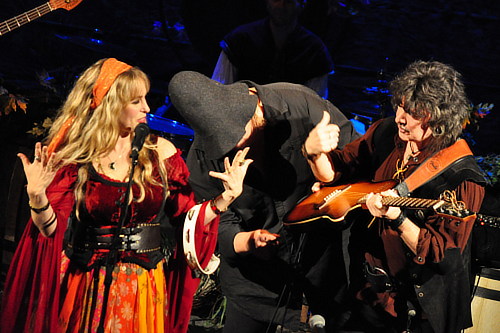 Frontiers Records has announced digital release of the first single from the new Blackmore's Night album Dancer And The Moon. The track is called The Moon Is Shining (Somewhere Over the Sea):
[It is] based on an old folk Czech melody which Candice and I thought were very melodic and haunting. We adapted and arranged to suit more of a rock structure. We also played it as a ballad as it was originally intended. We asked several of our Czech friends what it was called but they couldn't tell us, so it remains a mystery.
The single can be downloaded now from iTunes or Amazon and streamed via Spotify and Deezer.
Listen to the sample of The Moon Is Shining courtesy of Frontiers Records.
Dancer and the Moon will be released on June 11 in the US and June 14 in Europe in the following formats:
regular CD
deluxe edition: digipak, including bonus DVD featuring a 40-minute "making-of" documentary and acoustic versions of The Spinner's Tale, Somewhere Over The Sea/Moon Was Shining, The Ashgrove and Queen For A Day
"super deluxe" limited edition (2,000 copies): all of the above, packaged in a polyston frame with the cover artwork printed on canvas and including a black tote bag with Blackmore's Night artwork, four Blackmore's Night pins, and a certificate of authenticity


Thanks to BraveWords and Blabbermouth for the info.