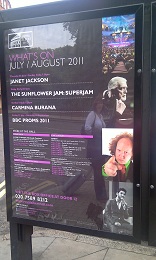 On July 8th, 2011, Deep Purple played host to the latest Sunflower Jam at the Royal Albert Hall.
This isn't a standard DP show, rather a collection of musicians assembled basically to have a bit of a jam that they wouldn't normally get to do during their 'day job'.
The evening began with a champagne reception, and at about 7 we were ushered into the main auditorium, transformed for the evening into a huge dining palace. While food was being served, Mario Queen of the circus performed, followed by the dancers of the Pineapple Studios.
As the meal progressed Jeremy Irons appeared on stage to discuss the procedure of the evening and to introduce Michael Dixon from the College of Medicine. Here we are reminded that although this is a night of music, the real purpose of the evening is to raise money to provide complimentary care and to raise awareness of their availability to those who are suffering from ill health. More information on the whole project can be found at http://www.thesunflowerjam.com/, where you can also find a link to make a donation if you wish……
Mario returned for a show of unicycling with one of the Pineapple studio girls as the crowds began to enter into the upper auditorium, and then it was time for the auction to begin. Despite the finances of the world at the moment this went well, perhaps not as spectacular as in previous years, but I trust good money was earned for the cause. Of note a days practice session with Ian Paice went for some £4000, and there were guitars from Planet Rock radio and the Red Hot Chilli Peppers also for sale.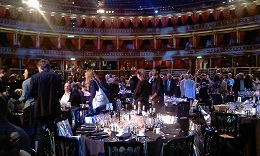 But then to the music. I've not really known about Newton Faulkner, but he got the show off to a great start with an inventive version of Bohemian Rhapsody, followed by one of his own numbers. I mark myself intrigued after his performance, and will go look for more based on the strength of his set.
Danny Bowes followed, with a storming version of 'Born to Run' dedicated to Clarence Clemons.
In the background the backing band comprised Micky Moody and Nicky Fyffe (who recently subbed for RG), Paul 'Wix' Wickens, Murray Gould and Jerry Brown.
Margo Buchanan made a welcome return before a personal highlight for myself, Gary Brooker of Procal Harem, and before I knew it I was dancing in the Albert Hall almost 'inside' Whiter Shade of Pale. Truly a memorable moment for me, perhaps disturbing for others….
By now the evening is flowing very quickly, and as Joe Bonamassa takes the stage the pace really picks up. Soon joined by Jon Lord you notice that their sounds merge together extremely well. Gary Moore's son Jack joins in, and you can't help but feel he has his fathers touch, perhaps one to watch out for….
Jon stays on to perform another two of the highlights of the evening, 'Bouree' from the Sarabande album, and 'Pictured Within', this time the vocal taken on by Steve Balsamo and Anna Phoebe on Violin.
Someone who's always been on the radar wanders on next. Rick Wakeman starts off with a variation on Elanor Rigby, before being joined on stage by Jon Lord.
It seems incredible after so many years in the same business, having known each other since 'God's dog was a puppy' that these two, well how would you describe them?, have never been on stage together to perform.. Tonight's the night, and 'It's not as big as it used to be' is how they choose to do it. A cracking little prog rock keyboard driven tune. By little, of course I mean it's seven and a half minutes of moog and hammond at it's finest.
Newton Faulkner then returns to help with Life On Mars, on which Wakeman had originally played, and a splendid rendition it is too.
And before you know it it's well past 11pm and closing in on the advertised end time.
A short break ensues and then it's time for Purple.
For me Highway Star is always a perfect opened for a Deep Purple show, and this time is no exception. It sets an early frenetic pace that barely lets up for the next 40 minutes.
Only a superb Contact Lost, the final Space Shuttle was due to lift off this weekend, merging into When a Blind Man Cries show the band slowing down any.
Joe Bonamassa, Jack Moore and Jon Lord all appear back on stage during the set and before you know it the riff begins and it's Smoke on the Water time. But with a twist, there's a table covered in cow bells, and uk comedian Bill Bailey is rocking them out to the riff. Gillan in the background can barely contain himself in time to begin singing!
A glance at the time tells us we're way over the planned finish time, but it's been an absolute blast of an evening. And musical memories that will last much longer than that money would have lasted in my pocket! You can also read Rasmus' excellent recollections of the show here.
Of course if you weren't able to attend there's always youtube to keep you going..