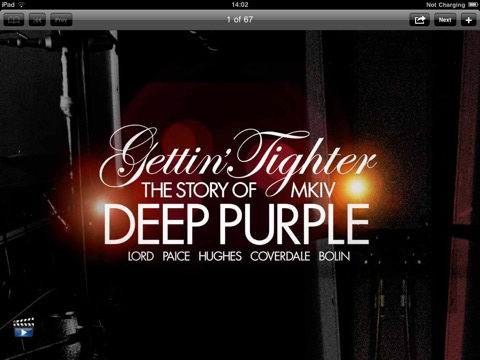 The Gettin' Tighter companion app for iPad has been released a couple of days ago (we're being assured that releases for other platforms will follow). The app is really an ebook with previews from the upcoming Phoenix Rising documentary, articles and pictures. Browsing tabs for deep-purple.net and thehighwaystar.com, as well as Twitter and Facebook clients are thrown in for a good measure.
Video clips included are:
Introduction
Friction within the band
Sunbury 1
Sunbury 2
Drug issues
Tommy Bolin
CTTB
Glenn Hughes
Australasian tour
Jakarta
Jakarta nightmare
Tokyo
Hughes problems
Implosion
The app is available at the Apple app store for $4.99/€3.99/£2.99. We were not able to preview it, so please post you comments below.
US release date for the Phoenix Rising has been set for June 28.
This is the first in a series of Purple-related apps. Other titles in the works are Deep Purple Sunbury 1975 and Rainbow 1976 Australian Tour.
Please note that this app – although it offers THS browsing capabilities – is not related to The Highway Star in any way.