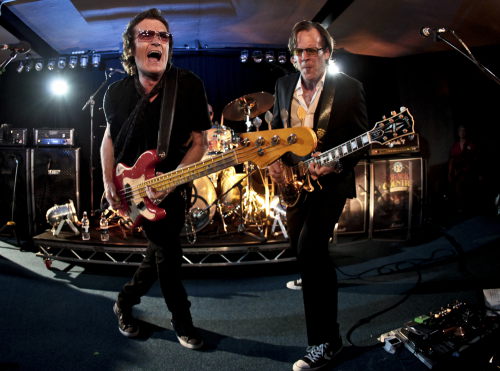 On December 29 Black Country Communion played their first public gig in the heart of Black Country — English city of Wolverhampton. The setlist was:
Black Country
One Last Soul
Beggarman
Revolution In Me
Down Again
Too Late For The Sun
Song Of Yesterday
Ballad Of John Henry
The Great Divide
Medusa
No Quarter
Sista Jane
Black Country**Reprise
—-encore—-
Burn
The local paper Express & Star has a rather enthusiastic review of the gig:
The 3,000-strong Civic crowd took up Cannock-born Hughes' battle cry: "I am a messenger, this is my prophecy, I'm going back . . . to the Black Country." From there it was no holds barred as the band ripped through almost all of its self-titled debut album, Hughes continuing to justify his "Voice of Rock" reputation.
Read more and see the photo gallery at Express & Star.
In other news, Glenn Hughes have just confirmed another extensive solo tour of the UK scheduled for May. Full details in our tourdates calendar. An exclusive presale is available from 9:00AM January 5th via www.ents24.com. General sale date is set for January 7th available through www.seetickets.com and www.thegigcartel.com.
Thanks to Daniel Bengtsson and Express & Star for the info.