The Palace night club in St Kilda, Melbourne, Australia has been burned down. Deep Purple played a concert there on April 27, 1999, writes George Fotis who was at the show then and saw the fire last Wednesday.
'I happened to be in the area and saw a lot of smoke in the air. It's next to the beach so Smoke On The Water came to my mind naturally.'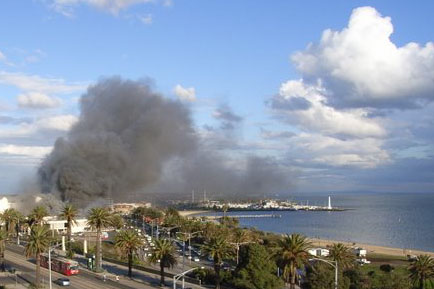 The fire was deliberately lit and the venue is now being demolished.
'I never managed to get any photos of the place but I wish I had now, as I had some memories of a fantastic concert. I was in the front as it was first-in first-served so I jumped at the chance. The concert was so great the band were at their peak. I expected it to only be an acoustic type show because it was a small venue, but the band came out loud as. It's a sad day for the people who saw concerts at that venue. Nirvana played there as well,' writes George Fotis.
In 2006 Purple played another two concerts at the Palace Theatre next to the night club.
Photo is copyright onlymelbourne.com.au – click for story and full gallery. Thanks to George Fotis.