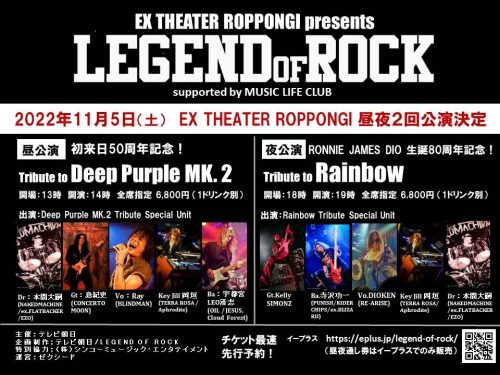 This year marks the 50th anniversary of the first Deep Purple tour of Japan, the one that produced the aptly named live album. Burrrn! magazine publisher Shinko Music is supporting a couple of events commemorating the occasion.
Osaka September 11, 2022
venue: umeda TRAD
Tokyo November 5, 2022
venue: EX THEATER ROPPONGI
Tokyo event will consist of two shows — the matinee (doors 1pm, stage 2pm) with a Purple tribute act performing Made in Japan in its entirety, and an evening show (doors 6pm, stage 7pm) with a tribute to Dio-era Rainbow. Osaka will be a Purple only event (doors 3pm, stage 4pm). Tickets can be booked here (but you better brush up on your Japanese).
[Update Oct. 17]: There is an interview with Dio Ken, the singer for the Rainbow tribute band scheduled to perform on November 5. You can read it here in both English and Japanese.
Thanks to Akemi Ono and Glenn Williams for the info.