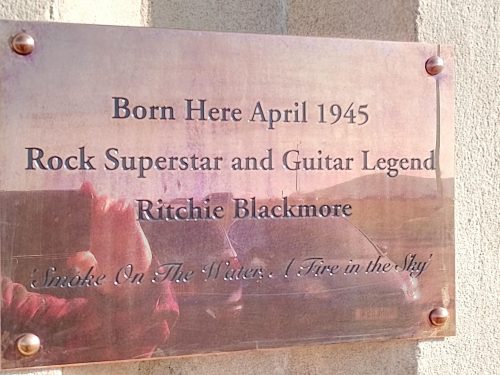 Remember the petition to install a plaque honouring Ritchie Blackmore? Well, it succeeded:
Hi Everybody, Yesterday, I viewed a plaque dedicated to Ritchie at his place of birth in Weston super Mare. I inspired the writing and the owners kindly sponsored a large metal plaque and placed it on the outside of the building for all to see. We will have a full unveiling on Ritchie's birthday in April. Thanks again for your support
Can we have the address please?
[Update March 2]: Music Radar has more details on the plaque:
After starting a petition to install a plaque marking the town as Blackmore's birthplace, John managed to collect over 2300 signatures. However when it was presented to the council, it was rejected on the grounds that Blackmore was still alive and therefore doesn't qualify.

The story doesn't end there, though. While the council's misgivings might have stopped a blue plaque from being awarded, Allendale Nursing Home on Beach Road – the building where Blackmore was born – has decided to step in to realise John's goal.

"The good news is the nursing home has sponsored and installed a plaque on their front wall for all to see. And let me design it," he told Guitar World. "We hope to have a full unveiling ceremony on Ritchie's birthday in April."
Apparently, the Allendale Nursing Home is now called Beach Lawns Residential and Nursing Home and its address is 67 Beach Road, Beach Front, Weston-super-Mare BS23 4BG.
Thanks to John Cadwallader for his efforts, and to Music Radar and Yvonne for additional info.