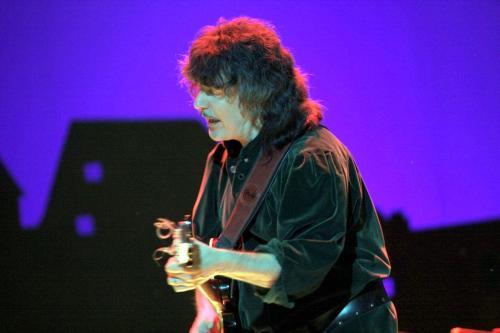 Music Radar celebrates Ritchie Blackmore's legacy with 5 of his songs guitarists need to hear that aren't Smoke on the Water. And even perhaps each of us would list 5 different ones, it's not the worst way to entertain yourselves during a holiday lockdown (like it is in this heck of the woods).
Best of 2020: The explosive genius of the Deep Purple and Rainbow guitarist is spread far and wide across a stellar catalogue. Five best tracks? Surely it's mission impossible…

Where do you start with Richard Hugh Blackmore, a man so preternaturally gifted with the electric guitar that one suspects he was not so much born but summoned onto our earthly plane?

There's a whiff of the Arthurian about the erstwhile Deep Purple and Rainbow guitarist; the enormodome his Camelot, the Fender Stratocaster his Excalibur.

Nonetheless, the Ritchie Blackmore legend was built on earthly pleasures – rock 'n' roll, Marshall stacks, treble boosters, riffs… Y'know, the good stuff, and it assumes the form of one of rock's most formidable discographies from one of its most combustible protagonists.

Maybe we should start with Smoke On The Water, a song Deep Purple wrote as they watched their studio burn down in Switzerland. It's a classic in the Deep Purple fashion, with a righteously groovy 70's rock verse supporting the Blackmore's stark monolith intro/chorus riff. But most of us already know that one.

That's the first thing you learn on guitar, right? And if you work in a guitar store, there are very few treatments to disentangle that genius riff from the post-traumatic association with a long Saturday afternoon on the shop floor.

To that end, we have not included Smoke In The Water here. That's the first disclaimer. Second is to note that with Deep Purple and Rainbow, Blackmore recorded dozens of tracks that should be listened to, studied, celebrated, and played loud of a Friday night, and we can't get to them all. Five is the rule… mostly.
Continue reading in Music Radar.
Thanks to BraveWords for the info.